Posted on June 7, 2016 by Travis Pulver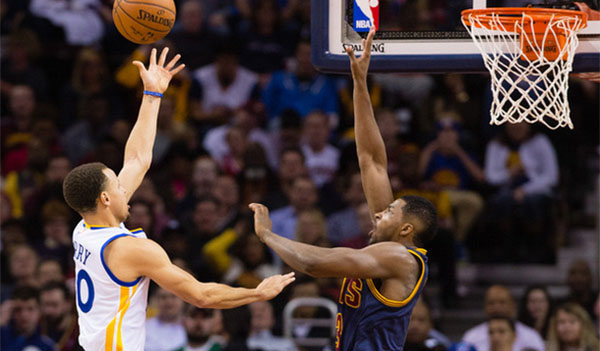 With a couple of days off in between Game Two and Three as the series moves to Cleveland, fans and analyst have had plenty of time to think about how the first two games went and over-analyze them. Analysts need to do so to come up with something new and compelling to discuss.
Fans—we do it because we get bored.
Sign up for a FREE Consultation to start working with Legendary Sports Bettor Jon Price
So with that in mind, here are five predictions concerning the Cleveland Cavaliers and Golden State Warriors based off of how the two teams have played so far during the NBA Finals:
Don't expect Kevin Love to sign another contract with the Cavaliers.
Love is under contract through the 2019-20 season, but with how he has played in the post season it is not hard to imagine the Cavaliers doing anything and everything they possibly can to move him. He was great when he was the man in Minnesota but as the No. 3 man in Cleveland he has been underwhelming.
He doesn't fit into the game plan very well and has not contributed as much as you would want someone making $20 million to make. They may have to eat some cash in order to move him, but unless he makes a dramatic turnaround, it is not hard to see the Cavs moving on.
Tyron Lue will be on a short leash next season.
The Cavs moved on from David Blatt after the team flopped against the Warriors during the regular season. So far Lue's Cavs are not looking any better against Golden State. If he was at least trying something, an argument could be made that it's the personnel and not him.
However, his big coaching point heading into Game Two was to have LeBron James pick up the pace a little more. That's it. No other changes were necessary; just a quicker pace. Well—we all know how well that turned out. A coach should be confident in his team, but his comments make it sound like he is watching a game other than the one going on.
Should the Cavs look as bad in Games Three and Four as they did in the first two, don't expect the front office to have much patience with him next season should the team struggle.
The only thing that may be able to beat the Golden State Warriors is money.
Come contract time every player on the roster is going to be able to command more than they are currently making. The Warriors will probably do what they can to hold onto everyone, but it will not be possible to meet everyone's contract demands or match every offer from another team.
It would be great to see the team stay together and continue to dominate for years to come, but you can't blame someone for taking a bigger contract elsewhere. It's a game to us, but it is a livelihood to them.
Cleveland may end up ditching LeBron before he ditches them.
James has been playing on two-year deals that allow him to opt out after the first year and sign a bigger contract. It allows him to get paid more each year, but it also gives him and the team a chance to cut ties if they so choose.
Should he continue to struggle in the Finals, it is not hard to see a time where the front office may feel like it is not getting what they are paying for. If (when) that time comes, he'll have to make a choice—stick with the Cavs and hope for the best or go somewhere else.
Golden State will win a third straight championship as long as no one suffers a season ending injury next season.
This off-season the team is going to have to make a few decisions on some bench and role players whose contracts are up. However, the core is still going to be there for at least another year. So there is no reason to think they will not be as dominant next year as they were this year.
However, after the 2016-17 season Andrew Bogut, Andre Iguodala, Steph Curry, and Shan Livingston will be unrestricted free agents. Holding onto all four will not be easy.