Posted on December 2, 2016, by Travis Pulver
The only time we ever want to see a blowout in a championship game is if one of the two teams playing happens to be our favorite team. Otherwise, a blowout is the last thing we want to see. We want the game to be close or for the underdog to upset the favorite. It makes it more fun for people that are not fans of the team to watch.
Of all the conference championship game scheduled to play this weekend, the one with the best chance of seeing the underdog upset the favorite has to be the ACC game—the Clemson Tigers vs. the Virginia Tech Hokies.
At first glance, many football fans will think the notion is crazy, but that will be because they don't know much about Virginia Tech since all the talk out of the ACC has been about Clemson the last couple of years. The fact the have a new head coach will make it easy for some to dismiss the Hokies as well.
Sign up for a FREE Consultation to start working with Legendary Sports Bettor Jon Price
What they would be missing is that the Hokies have been one of the better teams in the ACC for some time. This year will be the Hokies sixth appearance in the ACC title game out of the 12 times it has been held (they've won four, but haven't won since 2010).
As for their new head coach, Justin Fuente may not be a household name, but give him time, and he will be. It took him just a couple of seasons after taking over the Memphis program in 2012 to take a perennial loser and turn them into co-conference champions in 2014. It was their first conference title since 1971, and first 10-win season since 1938.
The following year they went 9-3. That was enough for Virginia Tech to make him Frank Beamer's replacement (who had been the head coach since 1987).
Normally, being the man that replaces the man is not an enviable position to be in. It's nearly impossible to live up to the legacy that a longtime coach like Frank Beamer leaves behind. No matter what, someone is bound to be unhappy with what you do.
That is unless you win–which is what Fuentes has done with the Hokies so far.
He had to find a new quarterback this season; one that could run an up-tempo style of offense—and he did in junior college transfer, Jerod Evans.
With Evans at the helm and new offensive philosophy, the Hokies offense improved from No. 74 in the country last year (385.1 yards/game) to No. 38 (453.4 yards/game). As a result, along with their improved defense (44th to 19th), they improved from 7-6 in Frank Beamer's final year to 9-3 in the first year under Fuentes.
Some will point to their three losses as a sign that they are not going to be able to play with Clemson, but what team is not going to struggle when it implements a new offense? That doesn't explain a late season loss like the one to Georgia Tech, but whenever you turn the ball over four times, you should lose.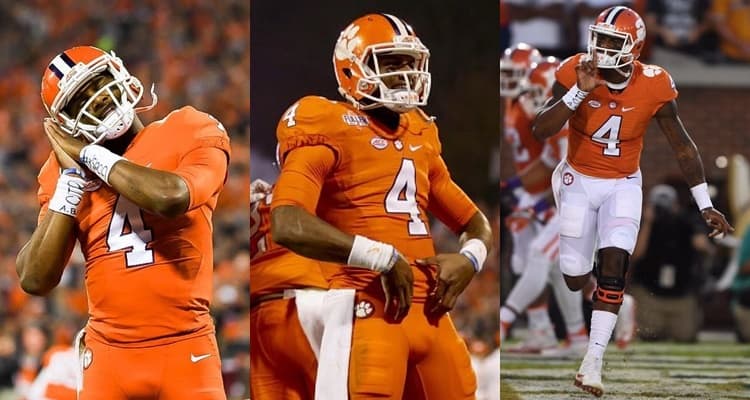 So Virginia Tech is good–but they haven't played a quarterback as dynamic as Deshaun Watson. The interceptions (14) have gotten a lot of attention this season, but he's not throwing many more than he did last season (13).  His passing stats are not too different than they were last year. The biggest difference has been in touchdown passes. He currently has one less than he finished last year with (34 to 35), but has three more games to go.
Where the Tigers have had issues this season, is in the running game. Clemson averaged 223 yards/game last year (No. 21); this season that number is down to 171.3 (No. 71). But they are still one of the best offenses in the country (No. 12; No. 11 last season), and they are scoring more (40.0 to 38.5)—so who cares about 50 yards of rushing/game?
Statistically speaking, the Hokies are good on offense and defense; just not as good as Clemson (which explains the 10-point spread). But the Hokies are a very good football club. If Deshaun Watson throws a couple of picks or puts the ball on the ground a couple of times, that will be the window the Hokies need to pull out the win.
If Watson doesn't turn the ball over, the Hokies will make it a good game, but they will have a hard time winning.