Posted on January 15, 2017, by Travis Pulver
For the Houston Texans to beat the New England Patriots Saturday night, they would need to make history. They would need to figure out some way to slow down the No. 3 scoring offense in the league while somehow getting their 28th ranked scoring offense to put up some points on New England's top-rated scoring defense.
Unlikely, right? So, unlikely the sportsbooks had the Patriots favored by 16 points, one of the largest spreads in NFL history. If the Texans were to win, it would be historic.
In the end, history was made—just not by the Houston Texans.
Sign up for a FREE Consultation to start working with Legendary Sports Bettor Jon Price
Patriots running back Dion Lewis had three touchdowns on the day—one rushing, one receiving, and another in the return game. The return touchdown was the first in a playoff game in postseason history and since Week Seven of the 2012 season for the Patriots.
"It was a great return and great execution. The guys made their blocks," Lewis told reporters following the game. "All season since I've been back, I knew we'd get one but just haven't had too many opportunities to take it out with all those deep kicks. But we knew there was going to be opportunities, and I hit it. The guys did a great job for me."
Lewis joined a small group of players to have scored a receiving, rushing, and return touchdown in the same game but became the first to do it in the playoffs.
The Texans gave it a valiant effort and played much better than they did the last time they came to Foxboro, but in the end, it just wasn't enough. Powered by Lewis and his three touchdowns, the Patriots cruised to a 34-16 win to earn their record-setting sixth consecutive AFC Championship game.
New England covered the spread, but the Texans did not make it easy for them. Tom Brady was only completed 18 of 38 passes for 287 yards and two touchdowns along with a pair of interceptions. It was only the fifth time since the NFL-AFL merger that a team had 35+ pass attempts, completed less than half of them, and still won.
Houston's defense put up a good fight overall. Moving Jadeveon Clowney and Whitney Mercilus to the inside worked wonders for the Texans pass rush in the first half as they succeeded in putting some pressure on Brady. It worked well enough to help keep the Texans within striking distance at the half, down four, 17-13.
There was still hope for the Texans in the second half. When Brady connected with running back James White for a 19-yard touchdown, Houston was just down by 11. It wouldn't be easy to close the gap, but it was possible—if Brock Osweiler could finally get the ball moving. He didn't do a terrible job in the first half, but when you play the Patriots, you have to end drives with touchdowns, not field goals.
But in the second half, he reverted to the guy that lost his job to Tom Savage towards the end of the regular season. Once again, he struggled to connect with his receivers (receivers on his team at least; all three interceptions were on deep passes) beyond 15-yards (1-8); it didn't help when he threw a perfect deep ball to Will Fuller in the end zone only to have Fuller drop it.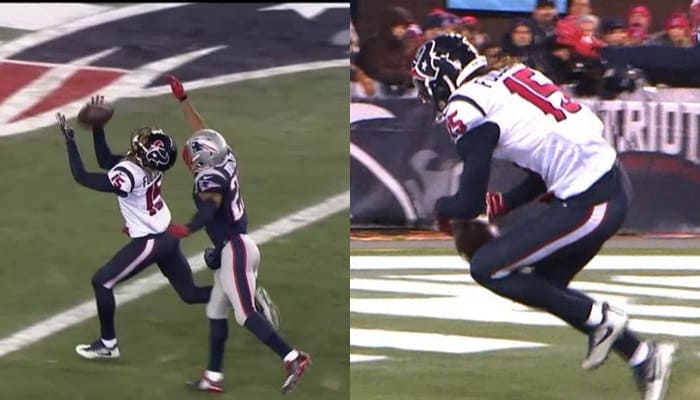 Texans head coach Bill O'Brien tried to come to his quarterback's defense after the game:
"Interceptions, they're never one guy's fault," O'Brien told reporters. "Obviously as an offense, we need to score more than 16 points. You're not going to beat the Patriots scoring 16 points. I'm not going to get into all the different plays and all that."
Right Coach, but it is hard to score when your quarterback keeps giving the other team the ball. Your defense can only bail you out so many times.