Posted on December 31, 2016, by Travis Pulver
Earlier this season, if anyone had said that Auburn and Oklahoma would play well enough to make it to one of the more prestigious bowl games, that person would have been laughed off the internet, radio waves, or Sportscenter set.
Both had rather ambitious early schedules that would have made them early season frontrunners had they won—but they didn't. Auburn started the year against Clemson, Arkansas State, and Texas A&M while Oklahoma started off with Houston, University of Louisiana-Monroe, and Ohio State. Both went 1-2.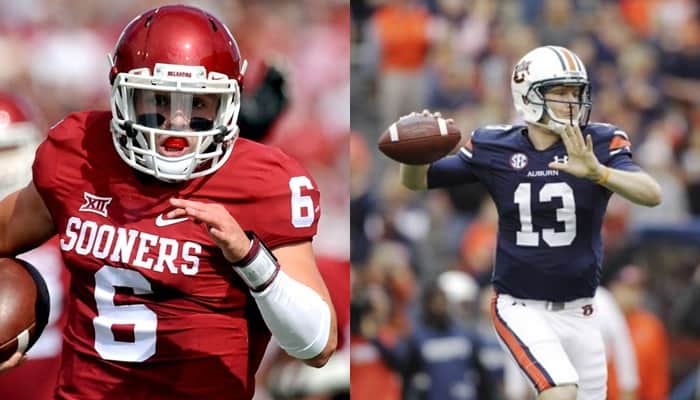 Sign up for a FREE Consultation to start working with Legendary Sports Bettor Jon Price
Any expectations fans had for either team went out the window. But then the craziest thing happened—they started winning.
Baker Mayfield and Dede Westbrook developed a deep ball connection that will have offensive coordinators giving their kids scholarship offers the day they are born. Samaje Perine and Joe Mixon began pounding defenses into submission.  The Oklahoma defense hasn't looked good for most of the season, but when you average 45 points a game it doesn't matter if you allow 30.
When the regular season ended with a 38-20 win over Oklahoma State, the Sooners were 10-2, Big 12 champions, and the No. 7 team in the nation.
For Auburn, the story was similar but different. Overall, they didn't play poorly in their two early season losses, against Clemson and Texas A&M, but they didn't play a complete game. When something didn't work, they didn't appear to know how to adjust.
They figured it out quick enough and followed the Texas A&M loss with a win over a very tough LSU team then went on to win seven of their last nine. They focused on running the ball, passed when they needed to, and played good defense.
To beat Oklahoma, they are going to have to do just that.
The Sooners are likely going to try to take advantage of a pass defense ranked No. 61 in the nation early and often. As soon as their efforts begin to work and Auburn tries to adjust their pass coverage, they will have Perine and Mixon run wild.
When it comes to facing the Sooners since they are so good at running the ball (No. 20) and passing it (No. 12 in total yards; No. 1 in efficiency) they almost force you to try and keep up with them on the scoreboard. Texas, Texas Tech, and TCU nearly succeeded in doing so.
Auburn doesn't have the right kind of firepower to get in a shootout with the Sooners. Their best bet will be to keep the Sooners offense from seeing the field with a ball-control style of offense—which is right up their alley. With the nation's No. 6 running attack at their disposal, Auburn might be able to do just that.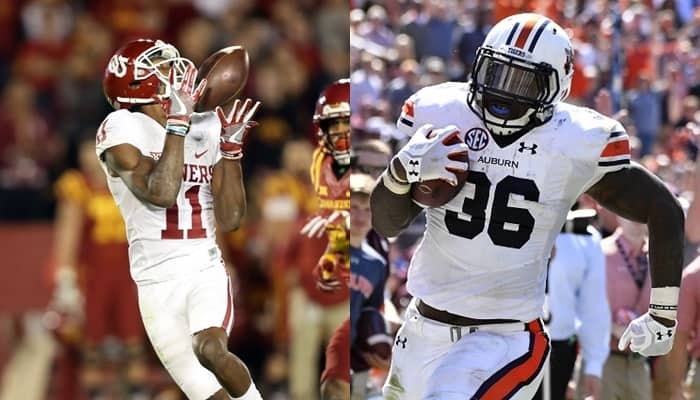 Of course, the problem with this plan of attack is that when it doesn't work the defense can't let the other team score. Auburn may be able to handle a few let downs just fine. They averaged just 15.6 points/game allowed during the regular season, but they also haven't played an offense of Oklahoma's magnitude.
Oklahoma has a decent run defense, but not one that will be able to shut the Auburn run game down. So, Auburn will be able to run, but what will be interesting to see is if the Tigers try to throw more to take advantage of Oklahoma's poor pass defense (No. 118).
Doing so—and succeeding—could mean the difference between winning and losing.