Angel Stadium

Anaheim Angels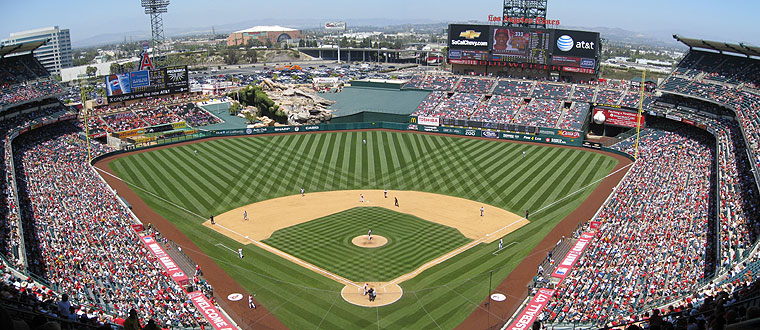 About Stadium
A ballpark constructed in downtown Anaheim, California, Angel Stadium serves primarily as the home to Major League Baseball's Anaheim Angels.
Originally named Anaheim Stadium and then changed to Edison International Field of Anaheim, the ballpark opened back in 1966 and has underwent multiple renovations since then.
In addition to being the home of the Anaheim Angels, it's also served as home to the National Football League's LA Rams during their original tenure in Los Angeles from 1980 to 1994.
Sign up for a FREE Consultation to start working with Legendary Sports Bettor Jon Price
Besides hosting Major League Baseball games, the venue has also served as an entertainment facility for countless musical acts over its decades of existence.
• Capacity: 45,957
• Opened: April 19, 1966
• 2000 Gene Autry Way
Anaheim, California, United States 92806
History
• Since their move to Los Angeles back in the mid-1960s, the Angels have played at the confines of Angel Stadium, but the venue has underwent a number of name changes over the years.
• Ground was broken on the project back on August 31, 1964 and finished just under two years later as the stadium opened on April 19, 1966.
• In the late 1970s, the LA Rams and owner Carroll Rosenbloom began looking for a new home to play in. They would eventually reach a deal that would allow them to share the venue with the Angels of MLB.
• In 1998 the stadium underwent its most major renovations to date complete with new scoreboards and display screens, as well as new private suite features that were added to enhance the more premium seating experience.
Past and Current Teams
Los Angeles Angels of Anaheim (MLB) (1966–present)
Orange County Ramblers (CoFL) (1967–1968)
Southern California Sun (WFL) (1974–1975)
California Surf (NASL) (1978–1981)
Los Angeles Rams (NFL) (1980–1994)