Posted on December 3, 2016, by Travis Pulver
Saturday was a good day for the Oklahoma Sooners. Good? No—that doesn't do it justice. It was a great day for the Sooners and their fans, and the win over the Oklahoma State Cowboys in the 111th edition of their annual rivalry game only had a little bit to do with it. With the Washington Huskies demolishing the Colorado Buffaloes Friday night, the odds of sneaking into the playoffs were pretty much gone.
Maybe if Clemson, Penn State, and Alabama lost their respective conference championship games, they might have an outside shot of getting in–like anyone other than Alabama's doppelganger from a parallel universe can beat Alabama.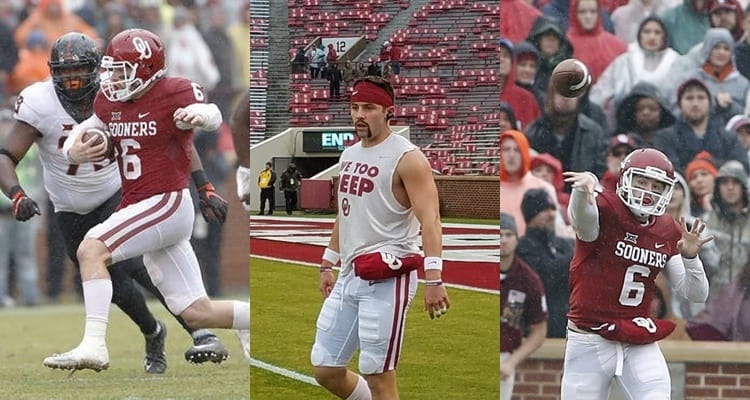 Sign up for a FREE Consultation to start working with Legendary Sports Bettor Jon Price
No, what made Saturday a great day was what Sooners quarterback Baker Mayfield announced after leading his team to a 38-20 win over Oklahoma State:
"I'm coming back," Mayfield said. "I'll be here for another year for the opportunity of a three-peat and the ultimate goal of winning a national title."
Mayfield's college career started out as a walk-on at Texas Tech. He left after his first year and decided to transfer to Oklahoma knowing that he would have to sit out a year before he could play due to transfer rules. But over the summer, the rule was changed, and Mayfield was awarded a year of eligibility.
It's a respectable decision, but also a little surprising. For the last couple of seasons, Mayfield has been one of the best quarterbacks in college football. He's a little short for an NFL quarterback (6'1"), but more teams are starting to overlook height when it comes to quarterbacks—especially when they are a dual threat quarterback.
NFL general managers and coaches had to like what they saw him do against Oklahoma State. Mayfield completed 13 of 19 passes for 288 yards and three touchdowns—but they didn't need him to do any more than he did thanks to the running game.
Samaje Perine led the way with 37 carries for 239 yards and a touchdown. Joe Mixon tacked on another 99 yards and a touchdown on 11 carries, but most of it came on a 79-yard run in the fourth quarter that iced the game.
Mayfield was forced to do without his favorite target, Dede Westbrook, who was knocked out of the game in the second quarter. But he had already done some serious damage having made four catches for 111 yards and a touchdown—his seventh of 60+ yards!
All season long Mayfield showed a knack for being able to connect with Westbrook on deep balls. Including Saturday's 69-yard touchdown catch, Westbrook has made 13 touchdowns catches of 40+ yards.  His ability to connect on deep balls this year has him poised to take the single-season passing efficiency record from Russell Wilson (191.78). Mayfield's currently stands at 194.70.
The win over the Cowboys locked up the Big 12 title for the Sooners for the second year in a row—but Oklahoma State didn't make it easy. The Cowboys defense was able to do enough against the Oklahoma offense in the first half for the game to be tied 17-17 at the half. But in the second half, the Oklahoma running game chewed up much of the clock while the defense clamped down on Mason Rudolph pretty hard.
Rudolph ended up going 11-25 for 186 yards and rushed for a touchdown.
"Just a rough day," Rudolph said. "I'll take all the responsibility for the lack of production, especially in the second half. Obviously, it needed to be better."
Assuming Rudolph doesn't declare for the draft, he'll get one more shot to beat Mayfield—who will have to find a new favorite target (Dede Westbrook is a senior) and could lose one of his two stud running backs (Samaje Perine is a junior).