Posted on December 2, 2016, by Travis Pulver
This year's Big Ten Championship is one of the most unique match-ups of the year, but not because of anything either team does or doesn't do. It will be because the competitors—the Wisconsin Badgers and Penn State Nittany Lions—while they are two of the best college football teams in the nation, they are not considered to be the two best teams in the conference.
Most consider Michigan and Ohio State to be the best the Big 10 has to offer. They are the No. 5 and No. 2 teams in the nation while the Badgers are ranked No. 6 and Penn State is No. 8. But the haters forget one thing.
On a national level, Michigan and Ohio State are where they deserve to be. They've earned the right to be where they are with how they have played over the course of the entire season. However, on a conference level, both are lacking. Michigan lost to Iowa and Ohio State. Ohio State lost to Penn State. So—how can you be lacking on a conference level and not nationally? Easy—earning a ranking back—be it on the national level or in conference—requires a team(s) ranked higher than you to lose.
Sign up for a FREE Consultation to start working with Legendary Sports Bettor Jon Price
On a national level, Washington, Clemson, and Louisville were kind enough to lose games going down the stretch allowing Ohio State to climb back to No. 2 and Michigan only fall to No. 5 after the loss to Ohio State.
However, in-conference there was only one team ahead of both—Penn State, and they ran the table after the early loss to Michigan. Since Penn State, Ohio State, and Michigan are all in the same division, Wisconsin gets a chance to play for the title even though they lost to Michigan and Ohio State.
Fair? Eh—it is what it is. Blame division alignments (if you must be angry at something). As for the game…
Both teams have great stories behind their seasons. Expectations were low for Wisconsin entering the season, but then the Badgers upset then-No. 5 LSU to open the season, cruised by two soft opponents, and then easily controlled then-No. 8 Michigan State. Their 4-0 start was put to the test against Michigan and Ohio State next, but the lost to both (in what were good, hard-fought games).
They finished the regular season with six-straight wins to earn their spot in the Big Ten title game.
After losing to Pitt and getting destroyed by Michigan early in the season, there was talk that it may be time to move on from James Franklin. There is nothing like an eight-game winning streak—including an incredible win over Ohio State–to quiet the haters.
But the real story isn't James Franklin's job security, but the return to national prominence of a proud program still reeling from the Jerry Sandusky scandal.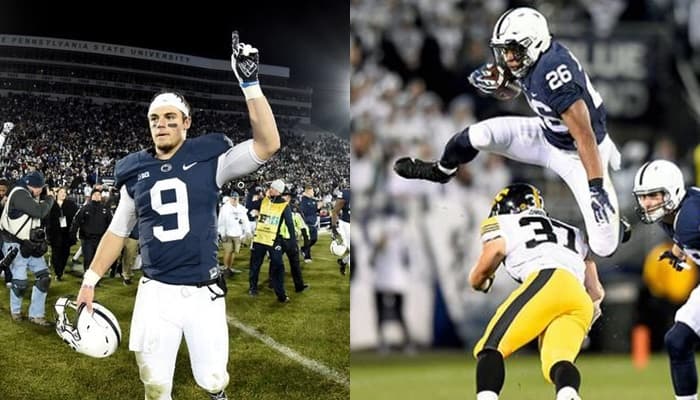 "Yeah, there's a huge buzz going around right now," fifth-year senior defensive end Evan Schwan said at a press conference. "Before I got here, I always heard that whenever Penn State is playing well, Happy Valley is that much happier.
Penn State fans should be happy. They have one of the best-running backs in college football on the roster in Saquon Barkley (1219 yards, 15 touchdowns), and the highest rated quarterback in the conference in Trace McSorley. Along with the rest of their teammates on offense, they have the No. 25 scoring team in the nation (36.6 points/game).
If Barkley and McSorley can find their grooves early on, Wisconsin could be in for a long day—but it will not be easy.
What the Badgers lack in offense (No. 91), they make up for by having one of the stingiest defenses in the country (No. 7). They have been dominant against the run (No. 3; 100. 8) and tough against the pass (No. 23; 191.3). Penn State may average 36 points/game, but the Badgers don't give up anything close to that (13.7; No. 3).
However, while Penn State will have a hard time scoring on Wisconsin, the Badgers offense (No. 91) will find the road to the end zone tough going through the Nittany Lions defense (No. 20). A redshirt freshman, Alex Hornibrook has been the main man for the Badgers and is expected to play despite having to leave the game last week with a head injury. Bart Houston will likely see some time at quarterback as well.
Neither is a great passer, but that is okay since the Badgers will look to make the most out of running back Corey Clement who has run for 100+ yards in his last four games and six of the last seven. However, Penn State has the most opportunistic secondary in the nation this year (21 interceptions; 11 in the last three games)
Wisconsin has been a popular pick because of how well their defense plays, but Penn State is a much more well-rounded team.  Whatever you do—don't count them out.