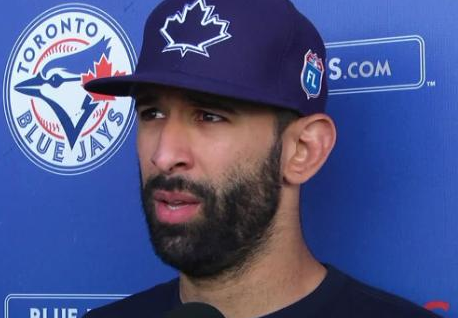 Posted on October 30, 2016 by Bryan Zarpentine
Jose Bautista figures to be one of the top power hitters on the free agent market this winter after the slugger spent the last eight and a half years with the Toronto Blue Jays. Despite being 36 and coming off a season that included multiple trips to the DL, Bautista is likely to have several suitors this offseason, as he remains one of the best pure power hitters in the game. According to reports, one possible destination for Bautista could be the Boston Red Sox, as there appears to be mutual interest between the Red Sox and Bautista.
With David Ortiz retiring, the Red Sox may be looking to bring in a new designated hitter, unless they choose to move Hanley Ramirez to DH and find a new first baseman. But if Boston choose to keep Ramirez at first base, Bautista would be a great candidate to fill the DH spot for the Red Sox, as Bautista can still hit even though his defensive skills are clearly in decline. With outfielders Jackie Bradley Jr., Mookie Betts, and Andrew Benintendi, Bautista would rarely be asked to play the field with the Red Sox.
Ironically, Ortiz mentioned one of Bautista's Toronto teammates, Edwin Encarnacion, earlier this year when asked about who could replace him as Boston's DH. Encarnacion is also a free agent and could fit Boston's need for a DH quite well. However, there's little to connect Encarnacion to the Red Sox outside of what Ortiz said during the summer, whereas there are already whispers that Bautista is interested in going to Boston this offseason.
Sign up for a FREE Consultation to start working with Legendary Sports Bettor Jon Price
Part of the attraction in Boston from Bautista's perspective is his familiarity with Red Sox manager John Farrell, who managed two seasons with the Blue Jays. Bautista is also said to be a fan of playing at Fenway Park, where he has a .276 career average with 24 home runs in 66 games. Even as his career starts to wind down, Bautista may still be capable of doing some damage offensively with the Green Monster in left field.
Blue Jays GM Ross Atkins has said the team will do everything they can to re-sign both Bautista and Encarnacion, adding that both players will be receiving qualifying offers of $17.2 million to return to Toronto in 2017. However, there are already strong indications that Bautista will reject the offer and take his chances on the open market in search of a long-term deal.
Bautista and the Blue Jays negotiated a possible extension during spring training, but the two sides could not reach an agreement. The Blue Jays reportedly were not willing to commit to the years and money Bautista wanted, and there are still doubts as to whether the Blue Jays will be able to afford to re-sign both Bautista and Encarnacion, or even one of them.
Of course, just because several signs point to Bautista leaving Toronto doesn't mean he'll end up in Boston. There are several other teams, primarily American League clubs, that will surely have interest in Bautista, including Toronto, who may be more willing to pay up than they were back in the spring. However, it's hard to deny the mutual attraction between Bautista and Boston, which could make the Red Sox the early favorites to sign the slugger this winter.