Chase Field

Arizona Diamondbacks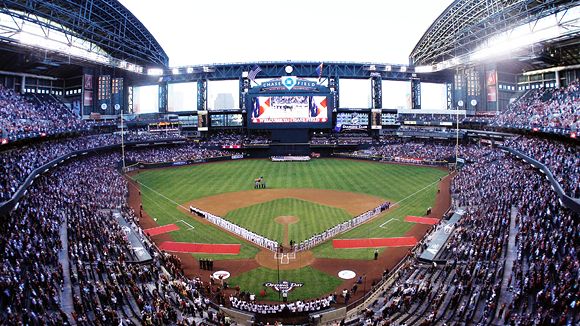 About Stadium
An indoor ballpark located in downtown Phoenix, Arizona, Chase Field is the home to Major League Baseball's Arizona Diamondbacks.
The facility opened 18 years ago in 1988 when the Diamondbacks were an expansion team and new to the league.
The roof is a retractable structure, allowing for games to be played both indoor and under the open sky. It's also the first retractable roof with a natural grass playing surface.
Sign up for a FREE Consultation to start working with Legendary Sports Bettor Jon Price
With Phoenix being the hottest city in North America, a domed stadium was crucial in order to escape the consistent 100 degree days that scorch the cityscape throughout the summer months.
• Capacity: 48,519
• Opened: March 31, 1998
• 401 East Jefferson Street
Phoenix, Arizona 85004
History
• Construction on the multi-purpose facility began back on November 16, 1995 and was completed under 3 years later as the park was opened on March 31, 1998.
• The park was originally named Bank One Ballpark after Bank One purchased the naming rights, however the name was changed on September 23, 2005 when Bank One merged with JP Morgan Chase & Co.
• The stadium has hosted a number of major sporting events over the years including the Insight.com Bowl, an MLB All-Star game in 2011, and the Cactus Bowl.
• The stadium was added a number of amenities since its construction, including a massif air conditioning unit, a pool, and more seats and private suites.
Current and Past Teams
Arizona Diamondbacks (MLB) (1998–present)