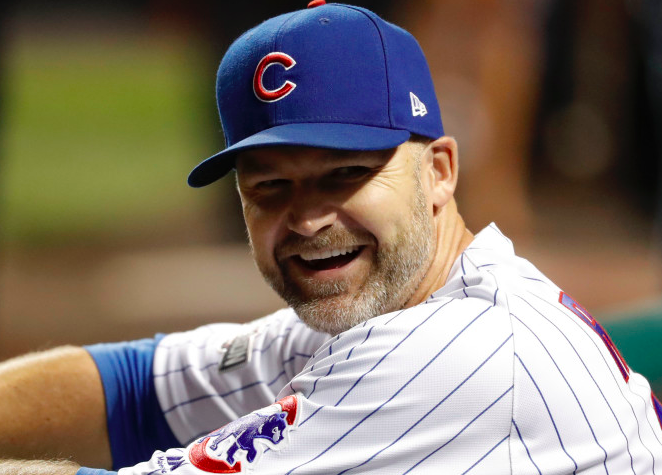 Posted on October 24, 2019, by Bryan Zarpentine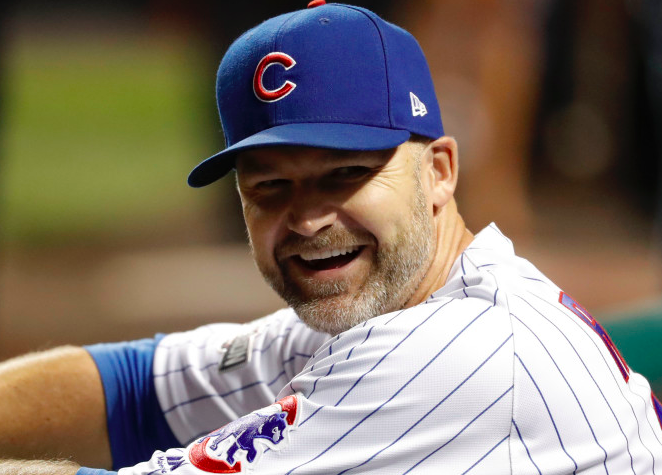 The Chicago Cubs are turning to a familiar face to replace former manager Joe Maddon. The club announced on Thursday that former major league catcher David Ross has been named the team's new manager. Ross, who was one of the first names mentioned after the team parted ways with Maddon, has signed a three-year deal to manage the Cubs with an option for the 2023 season. The Cubs will hold a formal press conference next Monday to introduce Ross.
"We are thrilled to name David Ross as the 55th manager in franchise history," Cubs president of baseball operations Theo Epstein said in a statement. "David is as gifted a leader as I've ever come across, and I expect him to become a great manager."
The 42-year-old Ross spent 14 seasons in the majors as a catcher, playing for seven different teams. He was part of the Red Sox World Series title in 2013 and finished his career with the Cubs in 2015 and 2016. He's become a beloved figure in Chicago for his contributions to the Cubs during their World Series win in 2016, including a home run in Game 7 of the World Series. Just a few years later, Ross will now be managing many of the teammates he had during his two seasons with the Cubs, adding an interesting dynamic to the clubhouse.
Sign up for a FREE Consultation to start working with Legendary Sports Bettor Jon Price
"A lot has been made, and rightfully so, of my connection to the 2016 World Series team, and the notion that I'll now be managing players I once counted on as teammates," Ross said in a statement. "Having those relationships going into this will be a bonus, no doubt about it. But those guys know I'll be the first to hold them accountable, the first to demand their best daily effort and the first to let them know about it if they give anything but their best."
After retiring in 2016, Ross was hired by the Cubs as a special assistant. He's also worked as a baseball analyst for ESPN. This will be his first job as a manager at any level. Epstein says that Ross being familiar with the Cubs and their players played only a minor role in helping him beat out several other worthy candidates for the job.
"David's connection to the organization and his relationships with his former teammates could be assets initially, but they were not factors in our decision nor will they be critical to his long-term success in the role," says Epstein. "He earned the job on the merits, and he will move the team forward in a new and different direction."
Ross will inherit a team coming off a disappointing season after fading in September and not making the playoffs. The Cubs remain in win-now mode and Ross will be expected to guide them back to the playoffs in 2020. He will have to quickly translate his leadership skills as a player into leading a big league team as a manager. The silver lining is that Ross already has the respect of a lot of players inside Chicago's clubhouse, including many who consider their new skipper a friend.
"I'm sure we'll butt heads just like I butted heads with [Maddon]," Cubs ace Jon Lester said earlier this week about the possibility of Ross being his new manager. "But at the same time, I would respect the hell out of him. He's my boss, so if he makes a decision, he makes a decision and you have to respect that."