Posted on July 9, 2016, by Travis Pulver
One of the problems NFL commissioner Roger Goodell is going to have if he is going to increase revenue from its current level of $13 billion a season to $25 billion in a few years, is figuring out where the money is going to come from. Some fans already consider it too expensive to go games, and apparel isn't exactly cheap either. The networks are already paying a pretty substantial fee for broadcast rights. So where is it going to come from?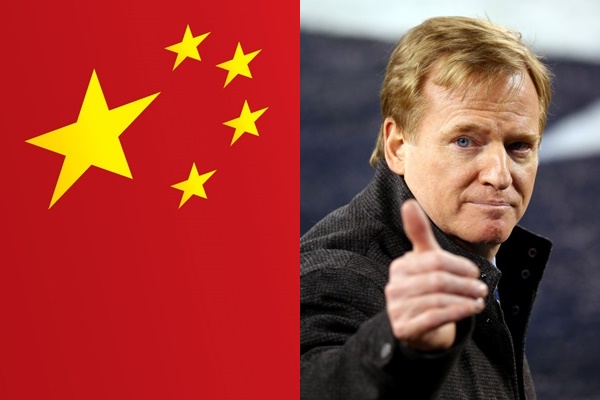 What he needs to do is expand the audience—which is why there has been so much talk in recent years about international games and maybe even a team overseas.
Thanks to a recent decision by the Chinese government, there could soon be over a billion people hungry for more American Football.
Sign up for a FREE Consultation to start working with Legendary Sports Bettor Jon Price
So—what did the Chinese government do?
It gave the China Arena Football League the nod of approval it needed to start finally playing.
The league has been a work in process since 2012 when it began as the brainchild of businessman Martin E. Judge, Jr. Plans were developed to start a professional league in China, but rather than go with traditional American football the decision was made to go with Arena because it would be faster paced and higher scoring.
Rather than make the same mistake as NFL Europe and transplant a bunch of Americans to fill out the rosters, the Arena-style of American football was introduced at six universities in 2013. That way, when it came time to fill out the rosters there would be plenty of local talent.
This way, when the league does begin to play, fans will be watching local players; people they may know or at least have heard of (which will make it easier for them to get emotionally invested in the teams).
The hope had been to start playing in 2015, but the league needed government approval first—which recently granted.
A draft was held in early June, and each of the six teams picked 20 players, and play is expected to begin this fall. Of the player selected, 60 were Americans of which 43 have played in the Arena Football League. The other 60 were players from China.
"This will be China's first ever professional league of American-style football, played by the best players in the world," said David Niu, president of AFL Global, the founding corporation headquartered in Conshohocken, Pennsylvania, in a press release. Former NFL quarterback and commentator Ron Jaworski is an investor and former NFL head coach Dick Vermeil is an executive.
Should people buy into the league and become fans it could end up opening the door for the NFL to come in. Perhaps fans will become curious about the NFL after watching the arena version of American football.
Should that happen that means the NFL will have a new audience of roughly 3.4 billion people. Even if just a small percentage become interested–ten percent would be another 340 million fans (more than the entire U.S. population).
Attempts have been made in the past to start American football leagues in the Far East. The Asia Pacific Football League formed in 1997 with plans to start playing in 1999, but the season was postponed to 2000 and ended up never happening.
Japan has had a professional American football league since 1971. It was first called the Japan American Football League but has been renamed the X-League. It currently is made up of 60 teams in three divisions.
Will this league work? Who knows, but if it works long enough to spark interest in American football, that is all Roger Goodell needs.