Posted on March 19, 2020, by Bryan Zarpentine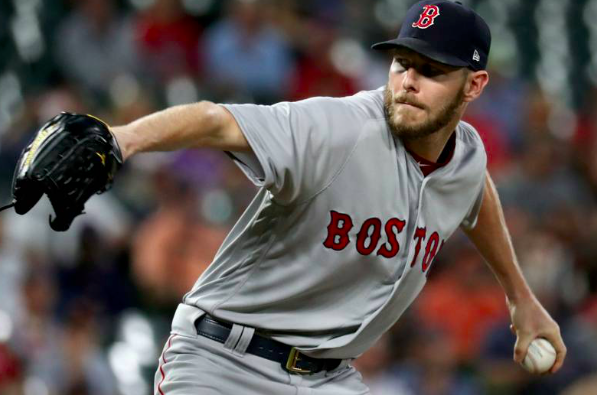 The start of the 2020 MLB season remains in question amidst the coronavirus pandemic. However, there will be no start to the 2020 season for Boston Red Sox ace Chris Sale. The club announced Thursday night that Sale will undergo Tommy John surgery. Having the surgery now means that Sale will miss the entire 2020 season, regardless of when it starts. He is also likely to miss the first half of the 2021 season.
Sale's health has been in question for most of the spring. He underwent an MRI on his elbow two weeks ago and proceeded to get opinions from three different doctors before being diagnosed with a flexor strain. At the time, it was feared that Sale was heading for Tommy John surgery. But the Red Sox simply decided to shut him down and explore non-surgical treatment in hopes that he would be able to pitch this season, even if he had to begin the year on the IL.
However, both Sale and the Red Sox have reversed course. There has been a growing fear that Sale would need surgery eventually based on the arm trouble that has sent him to the IL three times over the last two seasons. If there was no improvement in his elbow after non-surgical treatments, Sale would end up missing more time in the 2021 season by delaying the surgery. By getting the surgery now, Sale is conceding that his balky elbow was a problem last season when he posted a 4.40 ERA and that he wants to start the recovery process as soon as possible.
"For sure, over the last year and up to this point, I've done nothing but fall flat on my face," Sale said earlier this month when his future remained uncertain. "So that's a gut punch and a tough realization. But I've said time and time again, I have no time to hang my head and sit in the corner and pout. I've got work to do and I've got an uphill battle to climb, but I've got my climbing shoes on. So, I'll be ready to roll whatever way we've got to go."
The Red Sox can now start to move forward with their plans for the 2020 season knowing that Sale won't be involved. With Boston trading away David Price last month, the team's rotation will now be led by Eduardo Rodriguez and Nathan Eovaldi. Martin Perez will likely slot in as the no. 3 receiver. However, the final two spots remain up for grabs with the baseball world on hiatus.
Shortly after Sale was diagnosed with a flexor strain earlier this month, the Red Sox signed veteran Collin McHugh. He figures to be a good candidate to join Boston's rotation. Among the other rotation candidates, Brian Johnson held his own while Ryan Weber impressed in limited action before MLB suspended spring training games. At this point, it remains to be seen how the Red Sox will fill those two rotation spots when the season eventually gets underway.
Needless to say, there will be a considerable drop-off from Sale no matter who the Red Sox use to fill out their rotation. However, they were already in a position where they couldn't count on Sale heading into the season. In the long run, Sale getting the surgery now could pay off for him and the team. He's under contract through at least the 2024 season, making him a long-term investment and asset for the Red Sox. Losing him for 2020 will certainly be a hit to Boston's chances in 2020. But it could be the best way for the Red Sox to get Sale back to pitching like an ace in the long run.