Citizens Bank Park

Philadelphia Phillies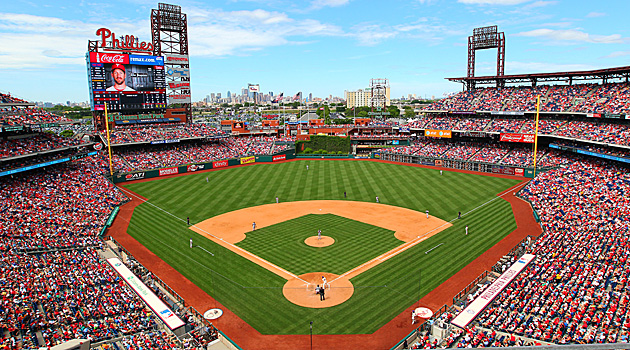 About Stadium
Constructed on the south side of Philadelphia, Pennsylvania, Citziens Bank Park is the home field of Major League Baseball's Philadelphia Phillies team.
The stadium is apart of the South Philadelphia Sports Complex which also includes the NFL's Philadelphia Eagle's home field, Lincoln Financial Stadium.
It's commonly referred to by local Philly fans as "The Bank" for short, or "CBP" by abbreviation.
Sign up for a FREE Consultation to start working with Legendary Sports Bettor Jon Price
Citizens Bank Park is a replacement for the Phillies' old home stadium, Veterans Stadium, which was a multi-purpose facility that housed both the Phillies and the Philadelphia Eagles.
• Capacity: 43,651
• Opened: April 3, 2004
• One Citizens Bank Way
Philadelphia, Pennsylvania, United States 19148
History
• The stadium was completed in just under two years, with ground being broken on the project on June 28, 2002 and the opening of the stadium taking place on April 3, 2004.
• Citizens Bank acquired the naming rights to the new stadium on June 17, 2003 for a price of $95 million, and the agreement extends for 25 years.
• Citizens Bank Park has been knob as a hitter-friendly field, in 2010 the field gave up the second most homers in the league behind only Yankee Stadium, as the most in the National league.
• The attendance record for the stadium was set not by a baseball game, but by the annual NHL Winter Classic which was played at the stadium on January 2, 2012 and drew a record crowd of 46,967 fans.
Current and Past Teams
Philadelphia Phillies (MLB) (2004–present)