Posted on July 12, 2016, by Travis Pulver
Social media has been a great way for players to connect with fans, but it has also been how many of them have gotten in trouble. They don't necessarily get in legal trouble or trouble with the league, but something much, much worse—the general public.
Spending the night in jail and getting fine by the league sucks, but once you deal with the consequences, the issue is done. In the court of public opinion, as long as someone remembers, the issue doesn't go away.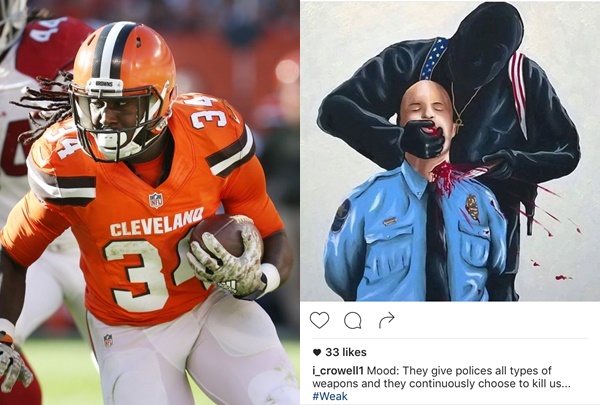 It may take a while for the court of public opinion to forgive Cleveland Browns running back Isaiah Crowell for his recent social media mistake.
Sign up for a FREE Consultation to start working with Legendary Sports Bettor Jon Price
So–what did he do?
He posted a picture to his Instagram page last Wednesday of a hooded individual standing above and behind a police officer and cutting his throat with a knife.
In case the picture wasn't graphic enough, he included the following message:
They give police all types of weapons and they continuously choose to kill us…#Weak
As could be expected, he received a ton of backlash for the picture and comment, and he quickly took it down. The team was not very happy with him and made that quite clear in a statement they released:
"We have spoken to Isaiah regarding his extremely disturbing and unacceptable social media decision. It was completely inappropriate, and we have made him aware of our high level of disappointment. Isaiah has apologized but also knows that just an apology is insufficient and that he must take steps to make a positive difference after a very negative and impactful post."
Crowell has since issued an apology where he admitted it was a big mistake and blamed it on the emotions recent events have generated in many people:
"…I posted an image to Instagram in the midst of that emotion that I shouldn't have and immediately removed it. It was an extremely poor decision, and I apologize for that mistake and for offending people."
He went on to include a better message than the one of a police officer being murdered and has called the Chief of Police in Cleveland to apologize as well:
"We have to be better as a society, it's not about color, it's about what's right and wrong. I was very wrong in posting that image. Every single life matters, every death as a result of violence should be treated with equal outrage and penalty."
Crowell may get lucky. This incident may not hound him too much, but the reason why is not a good one. It's because he plays on the worst team in the NFL and is not exactly a very productive player himself. If he were on a competitive team, this incident would follow him for the entire season (maybe longer).
He led the Browns in rushing last season with 706 yards and four touchdowns on 185 carries. He also had 19 receptions for 182 yards and a touchdown. To be fair, it is hard for anyone to be successful in Cleveland these days.
The team has said it does not have plans to punish him at this time but are waiting to see how he makes amends on his own instead. A spokesman for the NFL recognized how inappropriate the post was, but that the league is satisfied with what he has done and how the Browns are handling it.
The public tends to forget about moderately productive players on poor teams so this whole mess blow over sooner rather than later for Crowell.