The Toronto Raptors will be hosting the Cleveland Cavaliers this Friday, on October 28th. Both teams aim to reach the very Top of the Eastern conference and their first matchup could set up the tone for the remainder of their season!!!
No doubt that it will be a very close battle but the Sports Information Traders have the Cavs as a -2.5 favorite to win.
Cleveland has had a pretty successful overall season record of 57-25 and an away record of 24-17. Their main average was 104.3 points per game and had a point differential of 6. They had an equal number of wins and losses (8-8) against opponents within their own division and a 35-17 conference record. In their last 10 games they were 6-4 and the Cavs finished first in the Central Division.
Their opponents, the Toronto Raptors, were 1st in the Atlantic Division, averaging 102.7 points per game while surrendering 98.2, which gives them a point differential of 4.5. The Raptors had 32-9 home record and a 56-26 overall record. Their conference record was 39-13 while their division record was 14-2. In their last ten games the Raptors had a positive record of 7-3.
Sign up for a FREE Consultation to start working with Legendary Sports Bettor Jon Price
The Key Players!!!
 Cleveland's main man LeBron James maintained an average of 25.3 points per game, 7.4 rebounds and 6.8 assists, adding to that with a field goal percentage of 52% and 73% free throw average, all of this during an average of 35.6 minutes per game. Kyrie Irving also contributed to his team by averaging 19.6 points per game with 3 rebounds and 4.7 assists within a time frame of 31.5 minutes per game. He had a 45% field goal percentage and a massive 89% free throw average. LeBron James couldn't start the new season on a better note as he recorded his first triple-double of the season with 19 points, 11 boards and 14 assists against the New York Knicks, while had 29 points, 2 rebounds and 4 assists. Kevin Love was also big with 23 points, 12 rebounds and 3 assists.
The Raptors Kyle Lowry spent 37 minutes per contest last season averaging 21.2 points per game, 4.7 rebounds and 6.4 assists, with a 43% field goal and 81% free throw percentage. DeMar DeRozan chipped in with an additional 23.5 points, 4 assists and 4.5 rebounds per game and a 45% field goal and 85% free throw percentage, in 35.9 minutes per contest. Kyle Lowry was the best player on the team (next to DeRozan), averaging 21.2 points per contest, 4.7 rebounds and 6.4 assists last season. In his first game of this season he scored "only" 10 points, shooting poorly from the floor (4-18), along with 5 boards and 8 dimes. The one player that could step up his performance and be the key factor this season is definitely Jonas Valanciunas. The Lithuanian Center averaged 12.8ppg, 9.1rpg and 1.3bpg. However, his season opener performance indicates a much better season coming from the big men as he scored 32 points and grabbed 11 rebounds in a 109-91 win over the Detroit Pistons!!!
The Over/Under!!!
The over/under is set at 204.5.
Toronto Raptors averaged 102.7 points per game which ranked them 13th in the NBA. Their shooting percentage was 45% and the average scoring margin was around 2.8 points. When it comes to turnovers they were 5th in the league with 13.1 per game. The Raptors had an average of 52.6 rebounds and 18.1 assists per game which made them 12th and 29th in the league respectively. They were 5th in the league when it comes to the points allowed to their opponents, averaging 98.1 per game. Opponents had an average of 48.9 rebounds and about 20.9 assists per game, ranking them 4th and 6th in the league.
Their opponents, The Cleveland Cavaliers, had an average of 104.3 points per game which sets them at number 7 in the NBA. In addition to that, they had a shooting percentage of 46% which ranked them 9th and a scoring margin of 6.5%. The Cavs averaged 22.4 assists and 52.7 rebounds which puts them at 14th and 11th in the NBA, respectively. They ranked 6th in the turnover department with 13.4 per game. Cleveland let in 97.9 points by their opponents, which put them at 4th in the league and they also allowed a 35% average from the three-point-line and 45% shooting percentage.  Opponents averaged 21.2 assists per game and 48.7 rebounds which put them at 9th and 3rd.  They also forced 13.2 turnovers per game.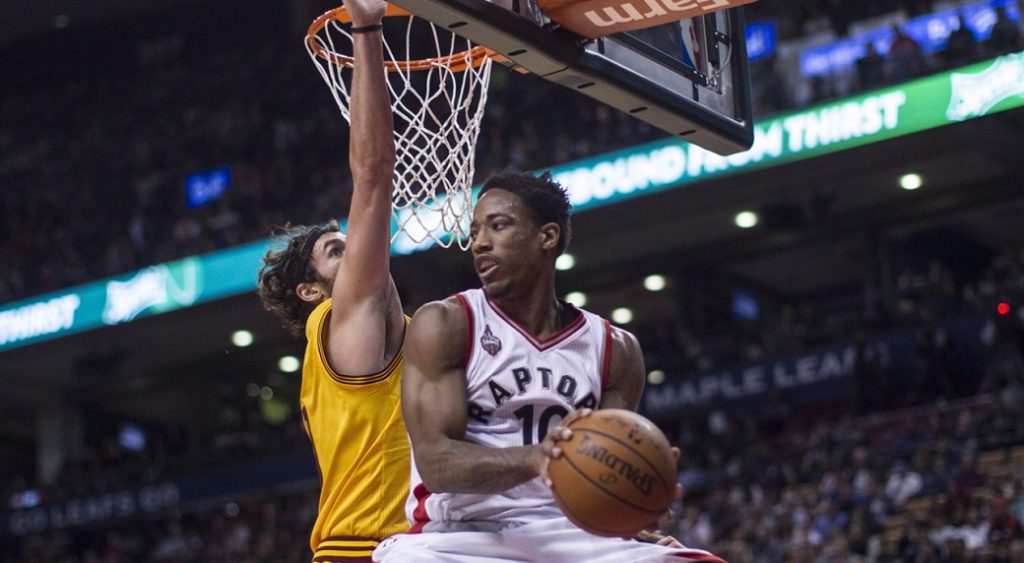 Toronto Raptors Betting Trends
The Toronto Raptors were 44-37-1 against the spread last year
The Toronto Raptors were 43-37-2 against the over/under last year
Cleveland Cavaliers Betting Trends
The Cleveland Cavaliers were 37-43-2 against the spread last year
The Cleveland Cavaliers were 41-41-0 against the over/under last year
Toronto Raptors Injuries
10/27/16 C Lucas Nogueira Ankle "?" Friday vs. Cleveland
10/22/16 F Jared Sullinger Foot out indefinitely
10/22/16 PG Delon Wright Shoulder out indefinitely
Cleveland Cavaliers Injuries
10/25/16 G Iman Shumpert Concussion injured last game, "?" Friday vs Toronto
10/25/16 G Kay Felder Concussion "?" Friday vs Toronto