Posted on February 23, 2019, by Bryan Zarpentine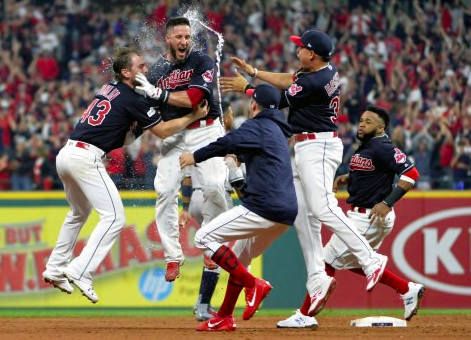 The Cleveland Indians will be going for their fourth consecutive AL Central title in 2019. Of course, they had a modest 91-71 record and a rather brief postseason appearance last season. They also did a little more selling than buying this past offseason. Can the Indians win another division title and make some noise in the playoffs this year or are they poised to take a step back?
Rotation
As expected, the Indians had one of the best rotations in baseball last season. Despite rumors that the club was open to trading one of their aces over the winter, that rotation remains largely intact this year. Corey Kluber and Carlos Carrasco were the leaders at the top of the rotation, but Mike Clevinger and Trevor Bauer were just as good, giving Cleveland four starters with an ERA under 3.40. Those four also combined for 62 wins last season. If that quartet is anywhere close to as good in 2019, the Indians will be in good shape.
Sign up for a FREE Consultation to start working with Legendary Sports Bettor Jon Price
Of course, the Cleveland rotation has room for improvement. Danny Salazar missed the entire 2018 season and gives the Indians another potential ace if he's healthy. Youngster Shane Bieber also showed some promise last year, going 11-5 with a 4.55 ERA. Even if he's the fifth starter, Cleveland should feel good about their rotation. Top prospect Triston McKenzie may also be ready to contribute the second half of the season after posting a 2.68 ERA in double-A last year, so there is some viable depth even if Salazar isn't healthy.
Bullpen
After years of having one of the most dominant bullpens in baseball, the Indians struggled to close out games last year. The likes of Cody Allen, Andrew Miller, and Dan Otero did not live up to expectations, causing the Indians to have one of the highest bullpen ERAs in the American League. Both Allen and Miller signed elsewhere in free agency this winter, so Cleveland's bullpen will look much different from past seasons.
On the bright side, the Indians acquired Brad Hand and Adam Cimber last summer. Those two will feature prominently this year, with Hand the closer and Cimber one of the lead setup men. Of course, the Indians will need more than those two to form a competent bullpen. Cleveland is hoping that Otero, Nick Goody, and lefty Tyler Olson can both improve upon performances last season. They will also be relying on 37-year old Oliver Perez to replicate his amazing 2018 season. However, there are definitely some question marks in Cleveland's bullpen outside of Hand.
Lineup
The Indians needed their lineup to do a lot of the heavy lifting last year, and that may be the case again this year. Once again, Francisco Lindor and Jose Ramirez will take center stage. Both were legitimate MVP candidates last season and have a chance to be just as good in 2019. The Indians are also welcoming back Carlos Santana, a longtime fan favorite in Cleveland. Santana will handle most of the DH duties after the club traded away Edwin Encarnacion. However, Santana is coming off a disappointing season with the Phillies and may not be the impact player he used to be.
Outside of Lindor and Ramirez, there are some serious questions about how the Indians will score runs. In addition to Encarnacion, the Indians also parted ways with Michael Brantley, Yonder Alonso, and Yan Gomes this offseason. To a certain degree, the Indians are banking on left fielder Jordan Luplow and first baseman Jake Bauers, both largely unproven young players acquired this winter, to become regular contributors. They will also need a little more than they got last season from the likes of Jason Kipnis and Tyler Naquin, especially since they don't know how much offense they'll get from catcher and center field.
Prediction
Between their exceptional rotation and stars like Lindor and Ramirez, the Indians will surely be the favorites to win the AL Central once again. However, the fringes of Cleveland's roster are loaded with question marks. The saving grace for the Indians is that the rest of their division is rebuilding. Look for the Indians to finish 88-74 this year, which will be just enough to win another division title but will set them up for another brief postseason stay.