Posted on November 3, 2016, by Travis Pulver
Nebraska had a chance to make a big statement last weekend with a win over Wisconsin, but the Badgers pulled out the victory in overtime against the Cornhuskers. However, even though they lost, Nebraska was still the lucky one. They didn't fall very far in the AP or Coaches Poll, and when the College Football Playoff Committee released their first poll, Nebraska was No. 10.
That means the one-loss Cornhuskers are still in the playoff picture; just on the outside looking in. If they want to have a chance to be on the inside, they must win out, and get a signature win—which they can get this weekend against the No. 6 Ohio State Buckeyes.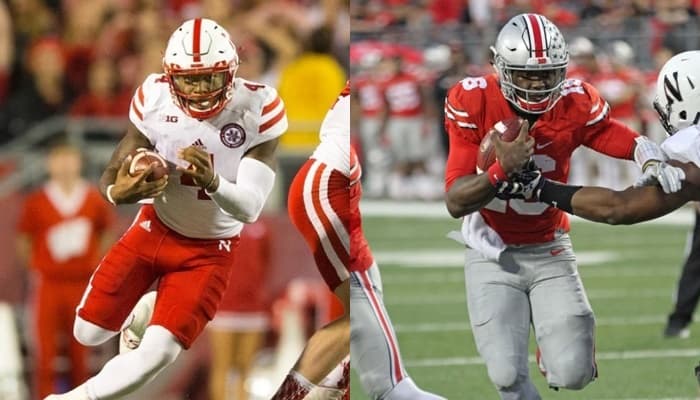 Sign up for a FREE Consultation to start working with Legendary Sports Bettor Jon Price
Of course, the signature win is not going to come easy, and most experts don't expect them to do it. Vegas has decided that the Buckeyes are 17-point favorites to win—so, yeah, it's going to be tough.
But not impossible. Nebraska head coach Mike Riley will just need to see what Penn State (the only team to beat Ohio State) did right and what Wisconsin and Northwestern almost did right.
So—what can Riley take from those games?
The Wisconsin game shows that the Buckeyes are a little more susceptible against the run than you would think a team with the No. 25 run defense in the country. Northwestern had three drives of 75+ yards. Penn State took advantage of defensive slips on their two touchdown drives and the point block, of course.
It looks like the defense may be slowing down as the season goes on making it easier to run on the Buckeyes—but the Ohio State defense is not the only issue. The offense hasn't been nearly as good either. It's been generating yards the last couple of games (400+), but not points (21 and 24). Ohio State quarterback J.T. Barrett has had only three passing touchdowns the last four games and six total touchdowns—but did not account for one last week against Northwestern.
When your offense is as young as Ohio State's is, you are going to have growing pains. Head coach Urban Meyer is confident his guys can work through them, though.
"You've got a bunch of young cats going and swinging hard and practicing hard," he said. "So I guess I'm much more positive. Do I wish that we were (scoring) 56 points and all those kind of things, sure, but we're a work in progress."
The question Riley may be asking himself is not what worked for Penn State, Northwestern, and Wisconsin, but whether his team is good enough to frustrate Ohio State's youngsters. His team's experience has come in handy late in games all season scoring 108 points in the fourth quarter and only allowing 13 (both marks good for second in the nation).
But there is a point where talent trumps experience—and it may be this game. Ohio State is arguably the more talented team, but it is also a very young team. Nebraska is talented as well, but not as talented. However, it is a more experienced squad.
So—which is better? Fans will find out Saturday.