Posted on November 3, 2016, by Travis Pulver
This is a great time of year for college football fans. We know who the good teams are, we know enough to suspect who could be great, and what teams are absolute stinkers. So we know what to watch, what to DVR, and what to ignore completely.
Usually, a game featuring two 4-4 teams would qualify as the one you ignore completely. Who wants to watch two mediocre teams play? But Saturday's Texas-Texas Tech game is not your typical match-up between 4-4 teams.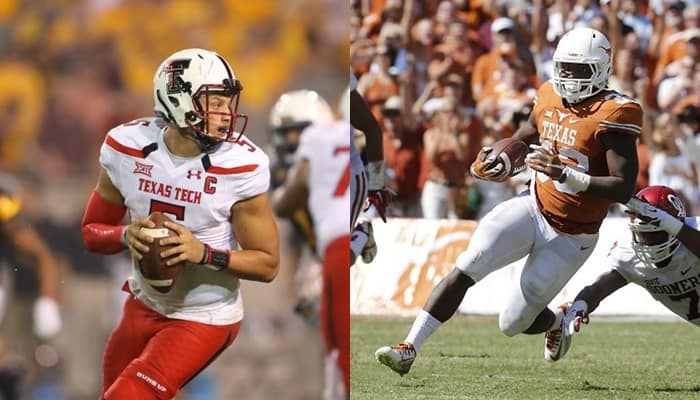 Sign up for a FREE Consultation to start working with Legendary Sports Bettor Jon Price
These guys are definitely must-see television—especially if you like watching high-powered, high-scoring games.
With the Texas Tech Red Raiders, you have a team that loves to pass, and they are pretty darn good at it (No. 1 in the country; 500.6 yards/game). Junior quarterback Patrick Mahomes is a big kid at 6'3" and 230 pounds so not only can he pass, but he's got enough size to be a running threat as well (10 rushing touchdowns so far this season).
Their leading rusher only has 289 yards this season, but when you pass as well as these guys do, why bother running?
Texas, on the other hand, loves to run—and they are pretty good at it. Junior running back D'Onta Foreman became the first 1000-yard rusher for the Longhorns since 2007 after gashing Baylor's defense for 250 yards (1105 in seven games). He's had to battle some injuries this season but has still managed to be an absolute beast.
Freshman quarterback Shane Buechele has done a good job this season for the Longhorns. He makes the passing game a threat. It's an unreliable threat, but enough of one that defenses can't ignore it.
So we have two teams that are good at what they do offensively. One is a fantastic passing team, and the other is dangerous when they run. That's great—but what makes the game must-see television?
Defense—or rather the lack of defense.
Texas Tech is terrible against the run (No. 104; 213.8 yards/game). Normally, when a team is really bad at one, at least statistically they are good at the other. The Red Raiders are allowing over 300 yards passing a game (No. 124).
Texas should have little trouble doing running or throwing against Texas Tech.
At the same time, Texas does a decent job of rushing the passer (31, No. 3; Texas Tech has allowed 21), but they are terrible otherwise when it comes to pass defense (No. 94; 258.5 yards/game allowed). With a run defense that gives up over 200 yards a game, the Red Raiders may be able to run the ball well.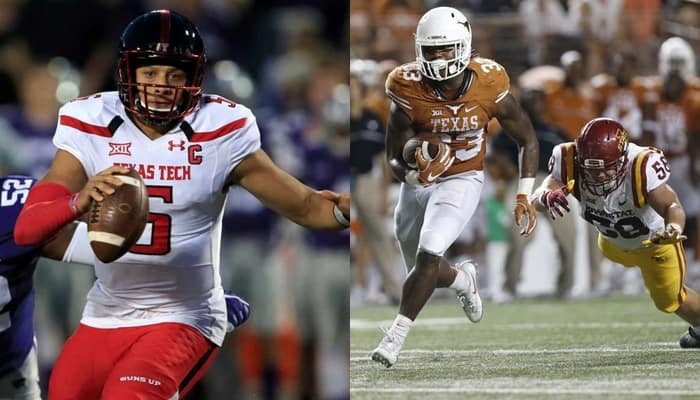 Texas has yet to win a game on the road this year and has given up 49 or more in two of their three road games, and at least 45 points in four games this season. Texas Tech has scored 55+ in five games this season.
You have awesome offenses playing against terrible defenses—so if you like deep passes, big runs, and lots of touchdowns, then you must at least set your DVR for this one. There is going to be too much action to watch in a highlight clip; something will get left out.
As for who is going to win—probably whoever has the ball last.