Coors Field

Colorado Rockies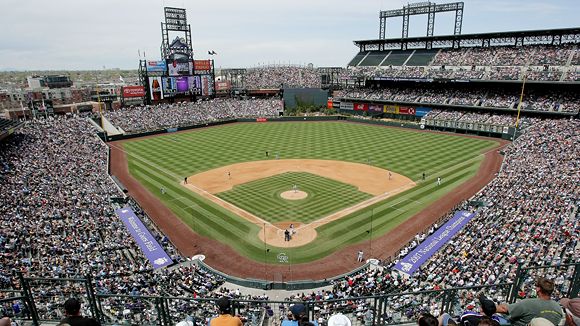 About Stadium
An open-air ballpark located in downtown Denver, COlorado, Coors Field is the home of Major League Baseball's Colorado Rockies.
The naming rights to the park are owned by local brewery Coors Brewing Company of Golden, Colorado which has owned the rights since the field's completion in 1995.
It's by far the highest elevated ballpark in Major League Baseball at 5,200 feet above sea level which did cause concerns that the park would be too hitter-friendly and result in too many home runs, which has turned out not to be the case.
Sign up for a FREE Consultation to start working with Legendary Sports Bettor Jon Price
The park is located in Denver's Lower Downtown area, which is also commonly referred to as "LoDo", and has 4,526 club seats and 63 private suites.
• 2001 Blake Street
Denver, Colorado 80205-2000
• Opened: April 26, 1995
• Capacity: 50,398
History
• Construction began on October 16, 1992 shortly after the city of Denver had acquired the new expansion MLB team, the first to play in the state of Colorado.
• The Colorado Rockies played their first two seasons in 1993 and 1994 at the Denver Broncos' Mile High Stadium after entering the league as an expansion team.
• During construction of the new stadium, workers found a number of dinosaur fossils in the ground of the site, which influenced many to want to name the park, "Jurassic Park." While that idea was scrapped, the Rockies did pick a triceratops dinosaur as their mascot as a reference to the discovery.
• After the end of the 2013 regular season, a new round of renovations were started on the stadium which included converting part of the right field upper deck into a party deck area.
Current and Past Teams
Colorado Rockies (MLB) (1995–present)