Posted on August 20, 2019, by Bryan Zarpentine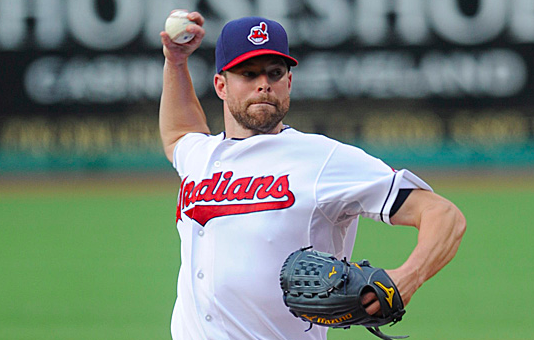 The Cleveland Indians have been patiently awaiting the return of two-time Cy Young winner Corey Kluber. Unfortunately, it seems like they'll be waiting a little longer. Kluber had to be removed from his most recent rehab outing on Sunday because of tightness in his abdomen. The Indians announced on Tuesday that he'll be shut down for at least two weeks, pushing back his return to the team.
Kluber hasn't pitched in the majors since May 1, making just seven starts before he broke his forearm on a line drive that hit him. The best-case scenario for Kluber was missing two months of action. However, he's already missed over three months of action and will end up missing over four months this season, assuming he comes back at all.
The only piece of good news is that Kluber's setback is unrelated to the initial injury. That being said, the Indians confirmed that Kluber has a strained oblique, which could be a troubling injury. The righty was in the first inning of his third rehab start when he was removed due to discomfort. It will now be at least two weeks until Kluber starts to ramp up his rehab again, meaning he's likely to lose some of the progress he had previously made.
Sign up for a FREE Consultation to start working with Legendary Sports Bettor Jon Price
By the time Kluber is re-evaluated in two weeks, the minor league season will be over, making it difficult for him to make any rehab appearances before returning to the Indians. That's assuming he's ready to resume pitching in two weeks. If not, it will become questionable whether or not Kluber will return to the Indians before the end of the season or not.
The silver lining for Cleveland is that they've been able to survive without Kluber for most of the season. Mike Clevinger and Shane Bieber have both tried to assume the role of an ace in the rotation. Adam Plutko and rookies Zach Plesac and Aaron Civale have also given the Indians a lot of quality innings this year, even after the team traded away Trevor Bauer. As long as Cleveland's young arms continue to be reliable, Kluber returning will be more of a luxury than a necessity.
In addition to waiting on Kluber, the Indians are also hoping Danny Salazar and Carlos Carrasco can return by the end of the season. Salazar went on the IL earlier this month with a groin strain. Carrasco, meanwhile, just made his first rehab start after being diagnosed with leukemia earlier this year. He will need a little more time to be ready but appears to be on the right track. The Indians would surely welcome either back, even if it's only in a relief role.
Despite being without Kluber, Carrasco, and Salazar for large stretches of the season, and recently trading Bauer, the Indians find themselves just two games back in the AL Central. The Tribe is also on top of the American League Wild Card standings. Of course, they're fighting for their playoff lives every game and could use all of the reinforcements they can get. Any kind of setback involving Kluber or any of their other veteran pitchers is a disappointment. But the Indians are still holding out hope that Kluber, Carrasco, or Salazar will be able to return and have a positivie influence on the playoff race down the stretch.