The Denver Nuggets travel to Air Canada Centre to play the Toronto Raptors on Monday, October 31, 2016, looking to continue their string of good results as they beat the Raptors both times last season. The Raptors, on the other hand, will want to finish the last of their three-game home stretch with a win as their current record is 1-1 putting them at 3rd in the Atlantic Division.
The Nuggets have the identical record and standings in the NorthWest Division. Despite losing their previous game at home to the Portland Trail Blazers, the Nuggets could see some positive news in the possibility that both Gary Harris and Darrell Arthur are set to return from injury for Monday's Halloween night showdown.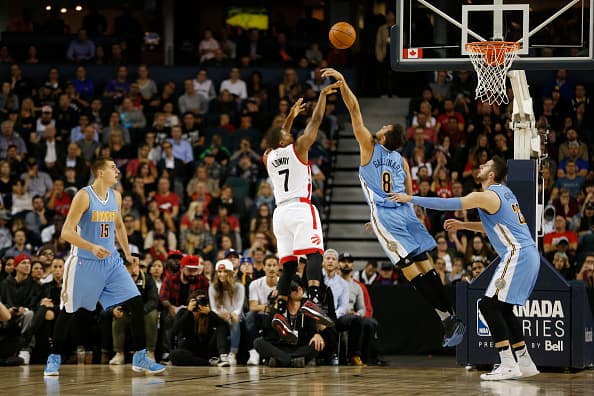 Key stats!!!
Sign up for a FREE Consultation to start working with Legendary Sports Bettor Jon Price
So far the Nuggets have been all-guns-blazing scoring an average of 110 points per game, the 6th best average in the NBA. With big guys like Jusuf Nurkic and Nikola Jokic dominating the center, it is no surprise that Denver leads the league in rebounds as they average a massive 70.5 per game. They also dish out 18.5 assists. Defensively, however, they still need to improve which is something the Raptors certainly know and will seek to exploit, as they sit at the bottom of the league when it comes to turnovers (21) per game. The fact that they also allow an average of 108.5 points per game, 49.5 rebounds and 27 assists tells us that we're in store for another high-scoring match.
Tonight's home side, the Toronto Raptors, average a 100 points per game, 56.5 rebounds and 14.5 assists. Even though they don't have as high offensive averages as the Nuggets do, the statistics tell us that it is bound to be a pretty tight and even-sided match battling it out till the very end.  Defensively, the Raptors do a lot better by only allowing 92.5 points per game which currently makes them the 3rd team in the NBA in that department.  They gave their opponents only 49.5 rebounds and 18.5 assists, and if we add that to the 42% shooting percentage and 30% behind the arc, it is clear that the Nuggets will have to heavily rely on their big guys under the rim if they want to penetrate their defenses.
Key Players!!!
The Nuggets will certainly rely on Will Barton as he comes into this game with an average of 19 points, 5.5 rebounds and 2.5 assists during 31.5 minutes on court, so he is definitely one to watch out for as Barton tries to continue his strong run. He has a field goal percentage of 44% but the Raptors will want to try and not foul him because he currently has a 100% free throw percentage! Danilo Gallinari adds another 16 points on average per game as well as 2 assists and 4 rebounds which he will be looking to emulate or even improve tonight.
On the other hand, DeMar DeRozan of the Toronto Raptors has a whopping 36 points-per-game average and is currently on fire. The Nuggets will have to come up with something quick if they want to stop him. He also grabs 5.5 rebounds and 1.5 assists during the 36.5 minutes on average spent on court.
Another key matchup is between Nikola Jokic and Jonas Valanciunas, both of which are off to good starts. Valanciunas is currently averaging 21 points and 14 rebounds while his opposite is averaging 14 points and 12 rebounds. Another player that will definitely look to dominate the frontcourt is the "Bosnian Beast" Jusuf Nurkic, who started off the new NBA campaign with the averages of 17.5 ppg, 9.0 rpg and 1.0 bpg, shooting a very respectable 59% from the field.
Our Pick from this matchup is that the Toronto Raptors will come out as the winner from this Halloween night showdown!!!
Denver Nuggets Injuries
10/29/16 F Darrell Arthur Knee "?" Monday vs Toronto
10/29/16 G Gary Harris Groin "?" Monday vs Toronto
Toronto Raptors Injuries
10/30/16 C Lucas Nogueira Ankle "?" Monday vs. Denver
10/22/16 PG Delon Wright Shoulder out indefinitely
10/22/16 F Jared Sullinger Foot out indefinitely
Denver Nuggets Betting Trends
The Denver Nuggets are 1-1-0 against the spread
The Denver Nuggets are 2-0-0 against the over/under
Toronto Raptors Betting Trends
The Toronto Raptors are 1-1-0 against the spread
The Toronto Raptors are 1-1-0 against the over/under