Posted on November 11, 2016, by Travis Pulver
When people talk about the Duke Blue Devils, the conversation typically centers around the basketball program. However, most sports fans are probably unaware that the Blue Devils have been quietly playing some pretty good football too. Over the last three years, they have averaged nine wins a season and have made a bowl game in each.
This year, they will be hard-pressed to become bowl eligible after last week's 21-24 loss to Virginia Tech dropped their record to 3-6. But with a 28-27 upset win on the road against North Carolina Thursday night they took a step closer.
Sign up for a FREE Consultation to start working with Legendary Sports Bettor Jon Price
The Tar Heels came into Thursday night's game looking to keep their division hopes alive with a win over what appeared to be a weak Blue Devils team—but Duke proved itself to be far from weak. Duke did the best thing a team can when the competition passes as well as North Carolina can (No. 20).
They ran the ball–and they ran it well.
Shaun Wilson ran for 107 yards and a touchdown and freshman quarterback Daniel Jones chipped in 94 yards and a pair of touchdowns on the ground. The Blue Devils ended the night with 227 rushing yards on the night (and controlling the ball for over 37 minutes). Jones tacked on another touchdown in the passing game to go with 240 yards (22-34).
Early on it appeared as if North Carolina was going to run away with the game. The Tar Heels defense forced the Blue Devils to punt on Duke's first two drives while the North Carolina offense marched down the field with ease.
But then Duke's offense got on track after North Carolina capped off a ten play, 96-yard drive with a touchdown with an 11 play, 68-yard drive to cut the deficit to 14-7. They forced North Carolina to go three and out on their next drive, and then tied the game up after Shaun Wilson finished off a 95-yard drive with a one-yard touchdown plunge.
Both teams would record another touchdown to make the score at the half 21-21.
For some reason, North Carolina's offense couldn't get out if its own way in the second half. Tar Heels quarterback Mitch Trubisky threw his first of two interceptions on the first drive of the second half, killing what had been shaping up to be a nice drive.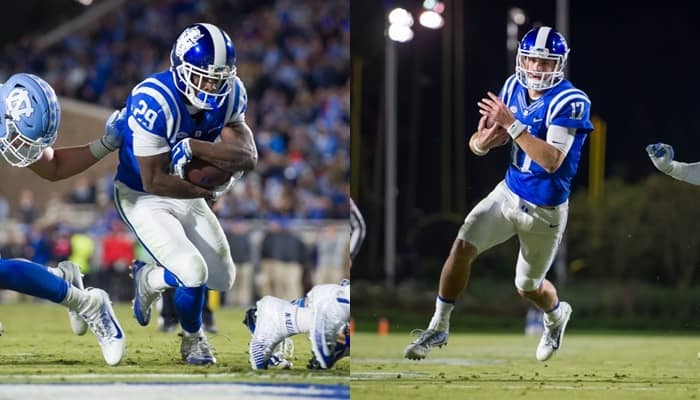 A field goal on their next drive gave them a 24-21 lead, but it didn't last as Duke marched down the field for a touchdown on their next possession to make the score 28-24. T.J. Logan gave North Carolina great field position with a 75-yard kick return, but the Tar Heels couldn't move the ball. They had to be satisfied with a field goal and a one-point deficit.
With the fourth quarter to be played still, it was anyone's game. But the Duke running game made sure that didn't last. They ate up four minutes on one drive and nearly seven on another leaving North Carolina 1:44 to get into field goal range at the end of the game.
But that was when Trubisky threw his second interception of the day, sealing the win for Duke.
With the win, the Blue Devils got to take home the Victory Bell, the trophy that goes to the winner of the annual rivalry game between the two.  The win will mean a little more to the Duke fans since it is also the first time since 1958 their team beat an AP-ranked opponent.
Duke will still need to beat Pitt and Miami on the road to becoming bowl eligible. North Carolina will have an easy up next in the Citadel before facing their rival, North Carolina.