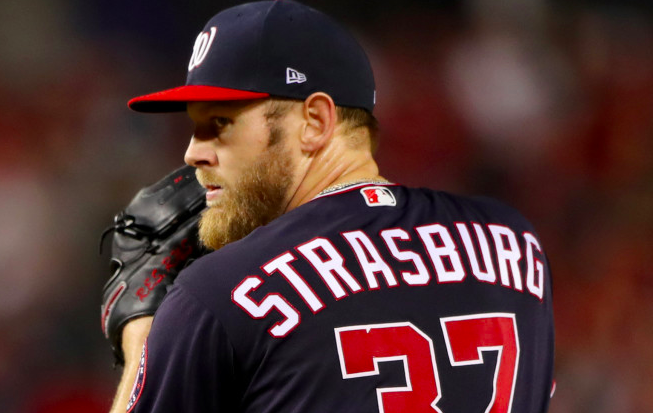 Posted on November 15, 2019, by Bryan Zarpentine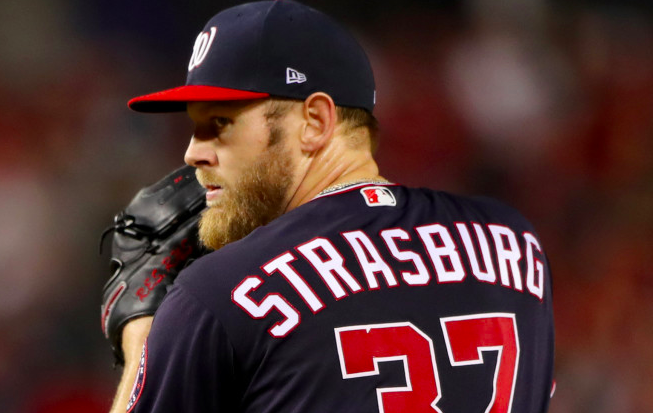 After an amazing postseason run that culminated in him being named World Series MVP, it was kind of a no-brainer for Stephen Strasburg to opt-out of his contract with the Washington Nationals and hit the free-agent market. Heading into the 2019 season, it seemed unlikely that Strasburg could top the four years and $100 million left on his deal. But Strasburg has finally fulfilled the promise he's had since the Nationals took him with the first pick in the 2009 Draft. More importantly, he did so on the biggest stage, setting himself up for a massive payday. Let's take an early look at where Strasburg might land this winter.
Angels – 10%
After hiring Joe Maddon as their new manager, the Angels will surely fancy themselves as a potential contender. However, they are surely missing an ace, at least one who can stay healthy. Strasburg has a history of injuries, but he stayed healthy this season, so the Halos will take that risk. With Strasburg being a native of Southern California, the Angels have something to offer him that most other teams can't.
Sign up for a FREE Consultation to start working with Legendary Sports Bettor Jon Price
Dodgers – 15%
If the Dodgers couldn't beat Strasburg in the playoffs, maybe they can get him to join them. No team in baseball is more desperate to win a championship than the Dodgers, so money will be no issue when it comes to trying to sign Strasburg. Like the Angels, the Dodgers can offer him the chance to come home to Southern California, not to mention the chance to headline a rotation alongside Clayton Kershaw.
Nationals – 25%
Washington surely has a leg up on the competition, as Strasburg has spent his entire career with the Nationals and is comfortable with the organization. The caveat, of course, is they'll have to go above the seven-year, $175 million deal they gave him before the 2016 season. The Nationals are also trying to hold onto Anthony Rendon, who will also command a 9-figure deal. It remains to be seen whether Washington is willing and/or able to re-sign both players.
Phillies – 10%
The Phillies signed one of Washington's stars away from them last winter, so why not try to do it again. It's safe to say that the Philadelphia lineup is in good shape after last season. But the Phillies will be desperate to upgrade their rotation this offseason. Whether it's Strasburg, Gerrit Cole, or Zack Wheeler, the Phillies are likely to throw a ton of cash at one of the top pitchers on the market this winter. Knowing that they can take Strasburg away from one of their division rivals could make him their top choice.
White Sox – 10%
The White Sox are an intriguing dark horse to watch in the Strasburg sweepstakes. They are still rebuilding but getting closer to being a contender in the AL Central. More importantly, the White Sox have money to spend and would love to add a proven ace to lead a rotation that is filled with young and promising pitchers.
Yankees – 20%
Yankees GM Brian Cashman has already dropped hints that the team is interested in the top free agents available. It's undeniable that the Yankees need to upgrade their starting rotation if they're going to be competitive in October. Again, it could be Strasburg, Cole, or Wheeler, but the Yankees seem poised to out-bid every other team for the services of one of the frontline pitchers available.
The Field – 10%
At this point, you never know what teams might be in or out for a player like Strasburg. The Padres, Strasburgh's hometown team, have said they won't be in the running. But that could still change. The Twins, Rangers, and Cubs have all been mentioned in passing as possible destinations. It might also be too soon to rule out the Mets and Astros if they're unable to re-sign Wheeler and Cole, respectively.