EverBank Field
Jacksonville Jaguars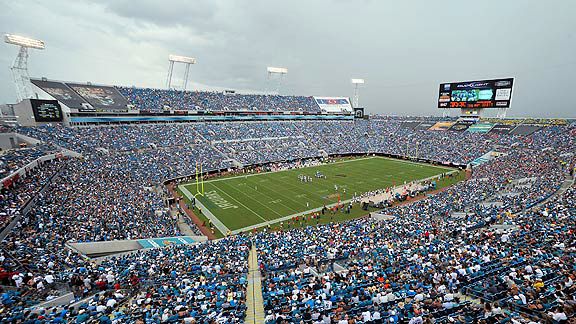 About Stadium
EverBank Field i located in downtown Jacksonville, Florida and is the home field of the NFL's Jacksonville Jaguars. The stadium was originally named Jacksonville Municipal Stadium and before that, Alltel Stadium, till EverBank bought the rights on August 10, 2010 for a five year deal.
It's one of the main venues commonly used by the United State's National Men's Soccer team. In college football, it hosts the annual Florida vs Georgia game, a longstanding rivalry, and EverBank also plays host to college football's postseason TaxSlayer Bowl.
The stadium was built over the site of the old Gator Bowl Stadium, which was built in 1949. When EverBank Field first opened it held a capacity of 73,000 fans, but has since expanded to 76,857.
Sign up for a FREE Consultation to start working with Legendary Sports Bettor Jon Price
It was the site of Super Bowl XXXIX in 2005, as well a variety of college football games and other major sporting events.
The stadium was completed in under 20 months at a price tag of $134 million.
•Capacity: 67,246
•Opened: August 18, 1995
•Playing Surface: Tifway 419 Bermuda Grass
•Location: One EverBank Field Drive
Jacksonville, Florida 32202
History
• On January 3, 1994, ground was broken on the project, then opened August 18, 1995 with a preseason game between the Jaguars and the St. Louis Rams. This game was also the Jacksonville Jaguars first ever game as a new expansion team.
• On Freuary 6, 2005, the stadium which was then called Alltel Stadium, hosted Suepr Bowl XXXIX between the New England Patriots and the Philadelphia Eagles. The Patriots went on to win the championship by a final score of 24-21.
• The largest crowd ever gathered at the stadium was 85,413 on September 29, 2007 in a college football match-up between Florida State and Alabama. The FSU Seminoles defeated the Crimson Tide, later termed the River City Showdown.
• In November 2013, plans for $63 million in renovations to the stadium were approved by Jacksonville's City Council. Among these renovations were the addition of the largest HD LED scoreboard in the world at 362-feet-long, a new wading pool area in north end zone, a new variety of activities for fans, and some new 55,000 square feet HD screens which is also a record for inside a stadium.
Past and Current Teams
Jacksonville Jaguars (NFL) (1995–present)
Jacksonville Armada FC (NASL) (2015–present; some games)