Posted on June 4, 2017, by Travis Pulver
Jim McElwain has done a good job during his first two years as head coach of the Florida Gators. He has taken a team that was a middle-of-the-ground competitor in the SEC and turned it into a two-time division champ. But until he can figure out how to beat Alabama in the SEC Championship game that is as high as he and the Gators can go.
So—what's it going to take? McElwain has already transformed the defense into one of the best in the country (No. 5 overall last season; No. 8 in 2015). He is bringing in top-notch recruits (No. 12 class in 2016; No. 11 class in 2017). But his offense—well, his offense is terrible.
During the 2015 season, Florida's offense ranked No. 111 in the country. Last season it averaged ten more yards a game, but the rest of the country did better as well (so it dropped a few spots to No. 116).
Sign up for a FREE Consultation to start working with Legendary Sports Bettor Jon Price
It's hard to pinpoint the issue(s) since they were not good at passing or running the ball either season (around 120 yards rushing and 200 yards passing a game. But there is one player who could go a long way towards fixing Florida's offense—a quarterback.
In 2015, it was Treon Harris, a guy who struggled to complete 50 percent of his passes and completed only nine of 25 when he played Alabama. Last season it was Austin Appleby, a guy that wasn't even good enough for Purdue (and threw three interceptions when he played Alabama).
The running game was just as bad, so it isn't all on the quarterbacks but when a defense knows it has nothing to fear from the passing game it can focus on stopping the run.
But next year could actually be the year for the Florida Gators. Why? Well—because this time they may have a quarterback Alabama will have to worry about playing.
Malik Zaire…or Feleipe Franks.
The former Notre Dame QB is expected to transfer to Florida following a visit to Gainesville later in the week. With the SEC relaxing its rule against transfers, the door is open for him to join the Gators as a graduate transfer.
Okay—so, why should his presence matter? Zaire never played much when he was at Notre Dame and only has about 800 yards passing and a little more than 300 yards rushing to his name. Florida has former four-star recruit Feleipe Franks awaiting his opportunity.
Both are better than Luke Del Rio but is Zaire better than Franks?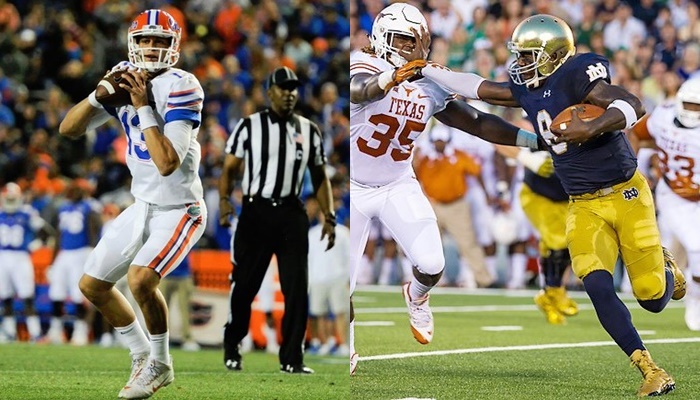 Maybe—maybe not. But what Zaire brings is a dual threat with experience. Franks has yet to take a snap in college. If McElwain isn't sure Franks is ready, he can go with Zaire. This way, he doesn't risk his prize red-shirt freshman getting injured.
There is no guarantee that Zaire will thrive, of course. Yes, he had flashes of brilliance when he played. He just didn't play much after sitting behind Everett Golson and then breaking his ankle early in just his second game as the starter his junior season. But this is also why he will have to earn the job.
But even if he doesn't win the job, he could still provide a significant impact for the Gators on offense. He first gained the attention of the world when he ripped off a 56-yard run against Rice back in 2014. If he doesn't play quarterback, he can still become an offensive weapon for the Gators.
So—will the Gators be able to challenge Alabama for SEC supremacy next season?
Their best bet may be if Franks can live up to the hype and McElwain figures out how to make the most of Zaire's athleticism—but it will not be easy. Despite Alabama's draft losses and coaching changes, the Crimson Tide are expected to be as dangerous as ever.
Beating them—no matter who Florida has at quarterback—will not be easy.