Ford Field
Detroit Lions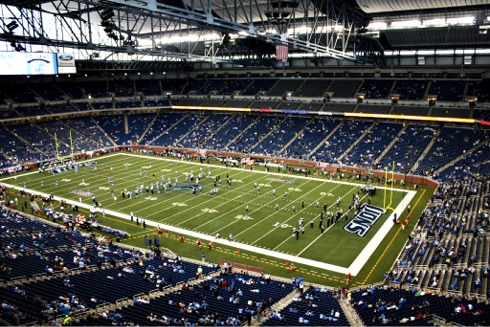 About Stadium
Ford Field is an indoor multi-purpose stadium located in Detroit, Michigan, and is home to the National Football League's Detroit Lions.
The facility is owned by Detroit/Wayne County Stadium Authority and in addition to it being the home of the Lions, it's also the annual host of the Quick Lane Bowl.
Ford Field seats about 65,000 for stranded events, but has the ability to expand up to 70,000 seats for football and major basketball events.
Sign up for a FREE Consultation to start working with Legendary Sports Bettor Jon Price
The original plan for Ford Field was for it to be an outdoor stadium, like the Detroit Tigers stadium which was built around the same time and which opened in April of 2000. The total estimated cost of the stadium was $430 million, which was mostly paid for with private funds, the sale of naming rights to the stadium, and public money.
The design of the stadium incorporates the old Hudson's warehouse that it was built next to. The warehouse itself was built in the 1920s and is a local historic building. Many of the stadium's suites are inside the warehouse, allowing for a unique seating arrangement at the field.
•Capacity: 65,000
•Opened: August 24, 2002
•Playing Surface: FieldTurf
•Location: 2000 Brush Street
Detroit, Michigan 48226
History
• On February 5, 2006, Ford Field hosted its first and only Super Bowl with the Pittsburgh Steelers facing the Seattle Seahawks in Super Bowl XL. The Steelers won the game by a score of 21-10. The game was a fitting homecoming for Steelers' longtime Running back Jerome Bettis who was from the Detroit area, and was retiring after that final game.
• The site hosted WWE's WrestleMania 23 on April 1, 2007.  The event packed the stadium to the amount of 80,103 fans in attendance. It was the first WrestleMania in Detroit since the Pontiac Silverdome hosted it back in 1987, with a record setting attendance of 93,173.
• In 2008 the NCAA Basketball Tournament's region semifinals and finals were played inside the stadium, and the Final Four was featured there the following year in 2009.
• The Minnesota Vikings were forced to move one of their home games against the New York Giants to Ford Field on December 13, 2010, after a section of their stadium's roof caved in under heavy snow.
Past and Current Teams
Detroit Lions (NFL) (2002–present)