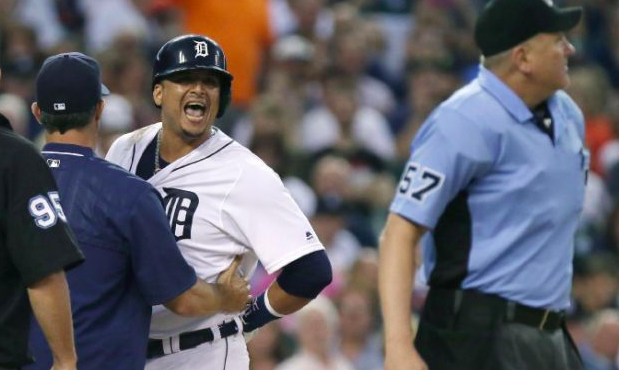 Posted on August 28, 2016 by Bryan Zarpentine
Despite plenty of ups and downs this season, the Detroit Tigers are still very much alive in the American League playoff race. A recent five-game winning streak has brought the Tigers within one game of the second wild card spot in the American League. However, that streak was snapped Saturday night against the Los Angeles Angels in a frustrating game for the Tigers that saw Detroit lose two players, its manager, and one coach to ejections at the hands of home plate umpire Mike Everitt.
The ejections started in the third inning with Victor Martinez, who argued over balls and strikes. Everitt appeared to keep his cool with Martinez at first, but the DH grew angry and the conversation soon became heated. Tigers manager Brad Ausmus came out to intervene, but it was not enough to prevent Martinez from getting ejected. Even after Ausmus had managed to get Martinez back to the dugout, he threw his helmet back on the field in frustration.
Ausmus says his team quickly grew discontent with the number of called strikes early in the game, leading to the outburst from Martinez. "If he's going to call those pitches on our hitters, we need those pitches called on their hitters. That's really the gripe. Simple as that," Ausmus said afterwards.
Sign up for a FREE Consultation to start working with Legendary Sports Bettor Jon Price
Two innings later, Detroit hitting coach Wally Joyner was dismissed by Everitt for continuing to argue with the home plate umpires about balls and strikes. Ausmus was soon ejected as well for attempting to defend Joyner. "I think there was a number of players in the lineup that were frustrated with some of the pitches that were being called. It's part of the game. Umpires have off nights too. But we felt that it affected our offense tonight," Ausmus explained after the game.
The fourth and final ejection of the night came amidst rather unusual circumstances. In the 6th inning, right fielder J.D. Martinez was ejected after he says he asked Everitt if he was having a bad day. "Honestly, that's what I said. 'You're having a bad day today, huh Mike?'" Martinez explained. Everitt asked Martinez to repeat himself, and after he obliged, Martinez was tossed.
"I was shocked," Martinez said after the game. "I really was. I've never been ejected in a game. I've always treated the umpires with respect. I've never disrespected one. By me saying that you're bad today, I don't feel like that's really an insult. I told him afterward, I was like, 'Everyone has bad days, Mike. I have bad days. Everyone has bad days. The least you could do is just man up to it.'"
After the game, Everitt offered a short and concise comment on his busy night. "All of the players, as well as the manager and coach, were warned, and sometimes more than once or twice," he said. "I will be filing my report with the commissioner's office in New York."
The loss of both Victor and J.D. Martinez certainly played a role in the Tigers losing the game 3-2, as either could have made an impact late in the game to swing the result in Detroit's favor. Despite the loss breaking up some of the momentum the Tigers have created over the past week, they are hoping to move on quickly from the rather unusual night. "It was just one of those things where it didn't matter, everybody was on the edge of getting tossed, it seemed like," said J.D. Martinez. "It's just part of the game. We've got to put it behind us and get ready for tomorrow."