Posted on October 27, 2016, by Travis Pulver
College football fans don't need to be told when to party. They don't need to have a good excuse or a catchy name to give them a reason to gather, eat, drink, and be merry. However, there is no better reason than the big game against your hated rival. If the name "World's Largest Cocktail Party" happens to be attached to the events leading up to the big game–like it is for the annual game between Georgia and Florida?
Yeah—people are going to enjoy quite a few adult beverages and maybe even a football game.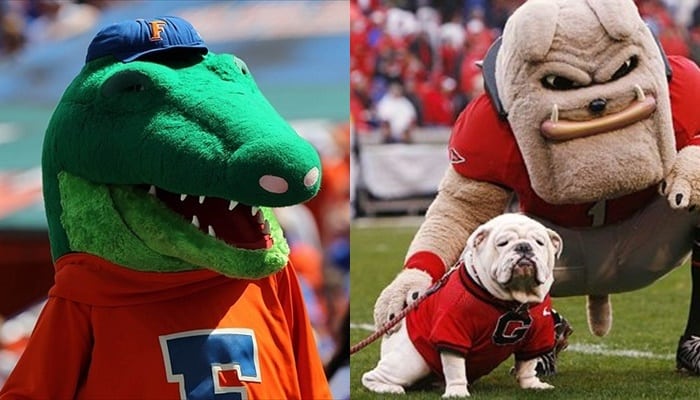 Sign up for a FREE Consultation to start working with Legendary Sports Bettor Jon Price
Officials from the University of Florida and University of Georgia have tried to phase out the nickname for their annual rivalry, but when the name is as cool as "World's Largest Cocktail Party" it is not going to go away easily. The name may not be used as much as it used to be, but the fans still act accordingly and a good time is had by all.
Heck—some grade schools even give their kids the day off on Friday.
The game was first played back in 1915 (at least that's when both schools started to recognize the rivalry) and has been played every year since 1926 except when World War II had to go and break the streak in 1943. If you ask Georgia's record keepers, the rivalry started in 1904, but the University of Florida they played then is not the same as the one they play now (but Georgia won 52-0 so they like to count it).
So the festivities are epic leading up to the game, but the game itself has not been too epic the last couple of years. Florida has won the last two by a margin of 18 and 24 points. This year's game could go either way. It could be a battle for the ages, or the Florida defense could shut the Bulldogs down.
Georgia has had its moments this year, but they have also had some learning experiences as the team has had to find and groom the quarterback of the future. They believe they have him in freshman Jacob Eason, and they will need him to be at his best to take down Florida
It all depends on what version of the youngster shows up. So far this season, his accuracy has been wild and unpredictable. His completion percentage has been as low as 29.4 percent (5-17, 29 yards, one touchdown and one interception against South Carolina) and as high as 67.5 percent (27-40, 346 yards, one touchdown).
With the Florida secondary being somewhat stingy this season (teams have only thrown four touchdown passes on them while they have made ten interceptions). In Florida's five wins, their defense has given up only 34 points.
What Georgia will likely do is feed the Florida defense a heavy dose of their two dynamic running backs, Nick Chubb and Sony Michel. Florida allows 119 yards a game so the Bulldogs backs will be able to find some room, but how much room will depend on them. With Eason's accuracy issues, it would go a long way towards helping the team win if one or both could run for 100+ yards.
Florida will try to throttle any of Georgia's attempts at offense. It's what they do—their defenses kills the opposing offense while their offense does enough to win. Luke Del Rio is a decent quarterback, but he has some accuracy issues as well (57.6 completion percentage this season), and he does have five interceptions to his name.
They will likely try to get the running game going behind Jordan Scarlett, Lamical Perrie, and Mark Thompson. All three have had their moments this season, but each has had their share of bad moments too.
If there is a team in the SEC East that may be able to compete with Alabama in the SEC Championship game, the Gators are probably the best bet. But they can't afford to slip and lose against the Bulldogs—especially with a surging LSU team still to play.
Florida certainly has the tools to win this one, but the Georgia running game will not make it easy.