Globe Life Park in Arlington

Texas Rangers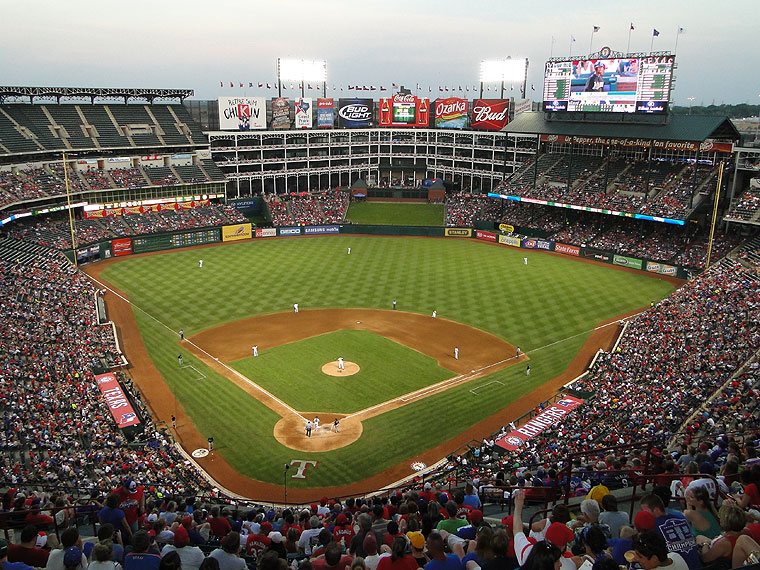 About Stadium
Built in downtown Arlington, Texas, Globe of Life Park in Arlington serves as home to Major League Baseball's Texas Rangers franchise.
Constructed as a replacement for the Texas Rangers' old home field, Arlington Stadium, their new home was originally known as The Ballpark in Arlington till May 7, 2004 when it was changed to Ameriquest Field in Arlington.
The stadium aimed to capture a retro feel to the ballpark, and was designed by David M. Schwarz Architectural Services which are based in Washington, D.C.
Sign up for a FREE Consultation to start working with Legendary Sports Bettor Jon Price
The team was previously owned by former President of the United States, George W. Bush, prior to him being elected president.
• 1000 Ballpark Way
Arlington, Texas 76011
• Capacity: 48,114
• Opened: April 1, 1994
History
• Construction of the stadium took one day short of two years as work began on the stadium on April 2, 1992 and the field opened on April 1, 1994.
• On February 5, 2014 the insurance company Globe Life and Accident bought the naming rights to the stadium as changed the name from Rangers Ballpark in Arlington.
• The Rangers announced on May 20, 2016 that they'll be leaving their home field to play in a new ballpark starting in the 2021 MLB season.
• The latest round of renovations were announced on December 3, 2010 which included new HD display screens, new scoreboard and audio system, as well as a new IPTV system that could display live television.
Current and Past Teams
Texas Rangers (MLB) (1994–present)