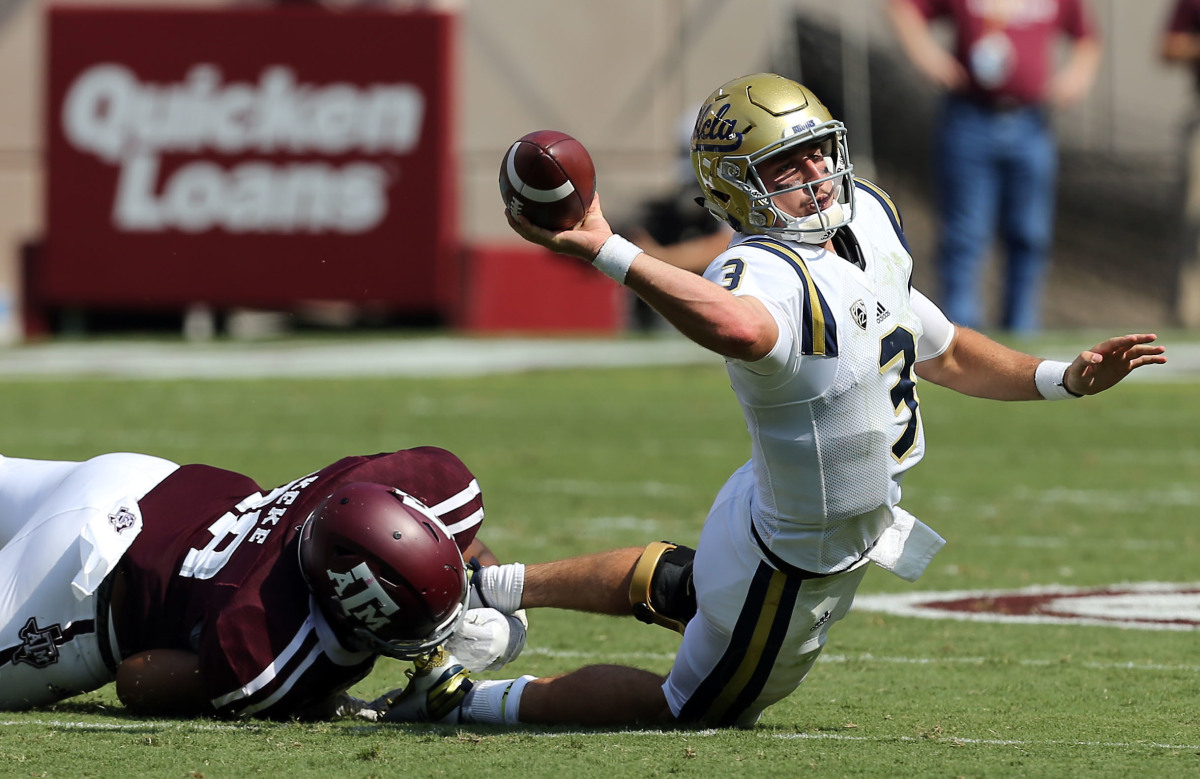 Posted on September 5, 2016, by Travis Pulver
If you just look at his record, Texas A&M head coach Kevin Sumlin has done a pretty good job. With 36 wins in four seasons, he has off to the best start for an Aggies head coach since R.C. Slocum—but that doesn't matter. After winning 11 games and finishing the season ranked No. 5 in the nation in his first season, the Aggies have slipped in each successive year.
Tack on a ton of off-field issues with players, coaches behaving poorly, and a pair of superstar recruits leaving town before the bowl game last season, and you have a program many would call bordering on out of control. A lot of things can be forgiven if a team is winning 10+ games a season and competing for the conference title—but the Aggies haven't been.
So entering this season, there were few seats as hot as that of Kevin Sumlin's—but not anymore.
Sign up for a FREE Consultation to start working with Legendary Sports Bettor Jon Price
There is nothing that cools off a hot seat quite like winning does, but what makes Saturday's 31-24 overtime win over UCLA mean even more to Texas A&M fans is how it came about. It was all about the running game and the defense.
Trevor Knight was a capable passer, but the team was clearly intent on developing a running game first and the passing attack second—and it worked. The Aggies ran the ball 41 times for 203 yards against a talented, veteran-filled UCLA defense. Trevor Knight completed 22 of 42 passes for 239 yards and had a touchdown pass, two on the ground (including the game winner in overtime on fourth down), and an interception.
In the past, 24-points would not have won Texas A&M the first quarter, but as the second season under defensive coordinator John Chavis gets underway, that does not appear to be the case anymore. Their task was made a little easier since UCLA only had four returning starters on offense, but one of them happens to be one of the best quarterbacks in the nation, Josh Rosen.
While Rosen ended the day with over 300 yards, he appeared rattled at times throughout the game, was often forced to throw on the run, was sacked five times, and intercepted three times. The noise may not have gotten to him much, but the pass rush certainly did. UCLA's running game wasn't able to help out much. The Aggies defense held it to just 3.1 yards a carry (40 carries, 125 yards) (ESPN).
So rather than because their quarterback threw for 400+ yards and had six passing touchdowns, Texas A&M won thanks to the running game and defense.
However, while there are plenty of positive things for fans of the Aggies to take from the game, there were some issues as well. The offense became conservative and predictable in the fourth quarter and couldn't move the ball. After dominating the third quarter, the defense turned into a sieve in the fourth. The Bruins were able to rack up over 200-yards of offense and score 15-points late in the final quarter to send the game to overtime.
In the end, the offense and defense took care of business in overtime and the team walked away with a win–this time. With a win, the hot seat for Sumlin cools down just a bit, but the Aggies have become infamous for coming on strong in September and fading in October. If he wants it to stay cool, he is going to have to work out how to keep from giving up 15-leads in the fourth quarter.
Texas A&M plays Prairie View A&M next week, but then start conference play on September 17 at Auburn.