For the vast majority of people, they know of The Real Tarzann Michael Holston from flashy pictures and short videos. The animal activist and handler gained his reputation through social media, and most have only experienced him in quick tidbits. That is about to change now that he has launched his new podcast, titled "Keepin' it Real."
In this podcast, Holston hopes that he can start diving into different topics with a bit more depth. The podcast is designed for big fans of the animal enthusiast, hoping to learn a little more about him in general. Can he make it in the podcast world? Going off his success in other media forms and the views for episode one, it has a chance to be huge.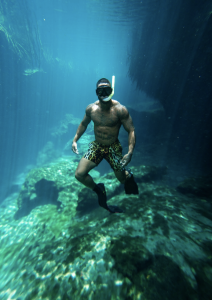 Holston's podcast idea
A podcast is not a new idea by any imagination, but there are not many podcasts related to animals. It is a very visual experience overall, which can complicate creating a podcast in some ways. That is one reason why Holston is posting all of the podcasts on YouTube for the time being, as there will be visuals available for viewers.
After watching just the first episode, it is clear that Holston wants to make this his most in-depth content yet. The first podcast was around three hours long, and it was a long, interesting conversation with another well-known social media star, Eric Damier. The founder and CEO of @earthpix travels around the world for his content as well. They were able to share many stories from their experiences so far while also looking towards the future.
The podcast format promises to bring more guests to interact with Holston along the way. He wants to make this a very free-flowing conversation and allow his guests to open up. Many stories can't be told in photos or short videos, and this is a way to chat a little bit more.
Topics
Michael Holston seems very open to talking about any and everything in his new podcast. On his social media pages, he has become increasingly aware of animal and social issues that are becoming hot topics globally. A podcast is an excellent opportunity to talk more about animal rights, as well as any social issues such as Black Lives Matter.
A podcast allows for a greater explanation on topics, which prevents the possibility of comments or short videos not telling the entire story. Many people on social media have put themselves in a bit of hot water by making comments or posting something with limited context. It might not look the best, and before they can explain, there is some negative backlash.
This is the type of content that perhaps his millions of followers might not all enjoy, but his most passionate fans will find it extremely interesting. Getting to see and listen to a different side of Holston in a more relaxed atmosphere is a great way to consume content.
Future podcast plans
With this being the first release, there are still many questions up in the air regarding the podcast. It is currently only posted on YouTube for starters, which is not the top location for those listening to podcasts during the day. It will likely make its way to Spotify, Apple, and other traditional podcast sources, but there seems to be a focus on making sure that video is also included. It makes sense, especially if he interacts with animals during the podcast or does something else visual in any way.
It also seems like Holston is not afraid to take chances and bring on guests from all walks of life worldwide. He can record while on the road, making it an international experience. The possibilities are endless to make this one of the best podcasts in the genre.
Another thing working in Holston's favor is that he can continue that same passion in his videos for an extended period. A lot of podcasts can become dull if the host is not engaging enough for listeners. Early reviews for the first episode praise Holston for keeping a high level of energy the entire time.
Anyone who has watched his videos understands that he does have that level of energy. Still, some skeptics wondered if he would maintain it for a more extended recording session.
Starting a podcast is an excellent step in the right direction for Holston, as he appears to be branching out and extending his reach little by little. Being famous on Instagram and YouTube is just the beginning for someone who seems to have massive plans in the future. He has developed excellent relationships with many celebrities around the world who admire what he does. That can be a great opportunity to bring on certain guests on his podcast down the line.
Views for the podcast are already high, especially considering the format, length, and platform. Once everything is a bit more refined, those numbers could start to take off. There is a bit of a void in this area in the podcast world, and Holston certainly has the personality to carry a conversation with anyone he brings on. Plenty of people will be paying attention to the feed for additional releases as he develops his voice in this new type of media.