Posted on December 17, 2016, by Travis Pulver
Up until some news broke out of Minnesota Friday afternoon, this one did not look too interesting. You have two teams hanging on to razor-thin playoff hopes with neither in control of their own destiny. But since they do have hope, it is unlikely either will just mail it in. However, that does not necessarily mean it will be a good game.
With the Vikings, fans have a team with an excellent defense but an offense that can't run the ball making it just a little predictable. With the Colts, fans have a team with a lackluster defense and an offense whose fortune is entirely predicated on whether Andrew Luck has a good day–which will be a little tougher since he'll be playing with the 35th different offensive line combination of his short career.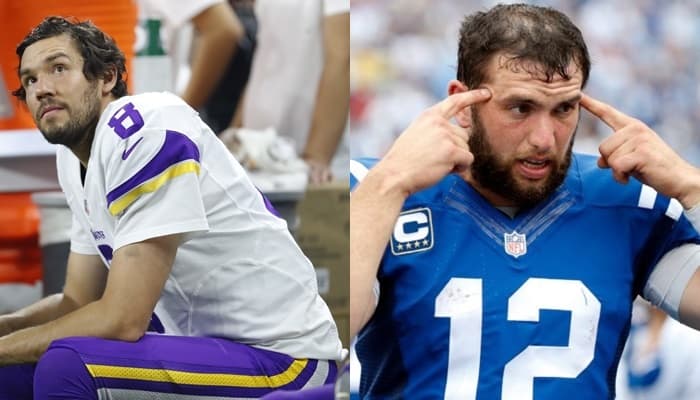 Sign up for a FREE Consultation to start working with Legendary Sports Bettor Jon Price
Eh—so there is potential for a good game here, but likely just one that will interest Vikings and Colts fans. That is, before Vikings running back Adrian Peterson shared a little news with the world after just a couple of practices. He shared the news during an appearance on Dash Radio Friday:
"So I was able to come up with the conclusion, talking with the head coach, my running backs coach and the training staff, that I'm going to go ahead and go this week. I'm getting back out there this week, man, and I'm looking forward to joining my team as we continue on this journey to make the playoffs."
Of course, what he says publicly and what the team believes can be two different things. That is until it isn't. Defensive tackle Toby Johnson has been waived to open up a roster spot for Peterson–who has been activated.
Without Peterson, the game is even. Both teams would be reliant on the passing game. Yes, the Colts could get a running game out of Frank Gore, but it is unlikely he'd have much luck against the Vikings defense. It would be easy to say the Colts passing game would be hard-pressed to succeed against the Vikings secondary as well, but Andrew Luck is a gamer. He has a knack for finding a way to win when it looks like he shouldn't be able to.
But now the Vikings may have a running game—if the old Adrian Peterson is the one that shows up.
Last season, Peterson carried the ball 327 times for a league-best 1485 yards and 11 touchdowns. But in the two games he played in this season, Peterson ran the ball 31 times for 50 yards.
Was something already going wrong with Peterson? Had his age finally caught up with him? Or was his lack of production more of an issue with a new quarterback and playing against two of the better run defenses in the league?
Indianapolis happens to have one of the worst run defenses in the league (23rd). If Peterson was going to have a good game in his return to action, his chances are better against the Colts this week rather than the Packers next week.
Then again, his first game back after a long layoff last season wasn't very good (10 carries for 31 yards against a poor 49ers run defense). So he may impact the game, but he may not. The possibility, though, will make the initial ratings pretty high–until (if) he gets stuffed by the Colts defense.
Minnesota needs to stay ahead of the Packers and keep pace with the Washington Redskins while hoping Tampa Bay loses if they want to make the playoffs this year. Their odds of success are not high, but better than the odds the Colts are facing.
Indianapolis must win out and hope the Texans and Titans lose at least two of their final three so they can win the AFC South or for the Broncos, Dolphins, Ravens, and Titans to lose at least two of their final three so they can take the final wild card slot.