Posted on November 4, 2016, by Travis Pulver
When Atlanta lost to Tampa Bay to open the season, it was easy for many to think the Falcons were starting where they left off last season. But then they won four in a row only to be brought back down to earth with a 26-24 loss to the Seattle Seahawks. When they allowed the Chargers to steal a 33-30 win in overtime the following week, it looked like they were headed back down the rabbit hole.
The Falcons got off to a hot start last season only to lose six in a row in the second half of the season. Are the losses to Seattle and San Diego a sign of last year repeating itself?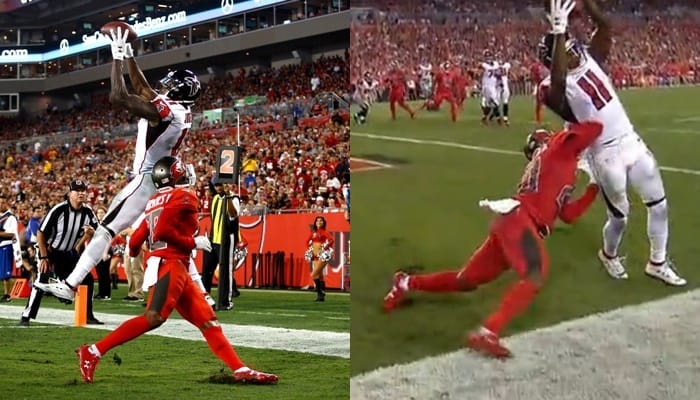 Sign up for a FREE Consultation to start working with Legendary Sports Bettor Jon Price
But then they came through in the clutch to steal a 33-32 win from the Green Bay Packers. Does this mean the team is good to go? No mid-season collapse?
Maybe—but to prove it, they needed to get past the same Tampa Bay team they lost to in Week One, but on a short week. Could they avenge their season-opening loss or would the short week be the excuse for a lackluster performance?
At first, it looked like it would be another game where the offense was going to have to outscore the other team. Jameis Winston looked good against the Atlanta defense as he guided the Buccaneers offense on a 13-play, 75-yard touchdown drive to start the game. Matt Ryan followed it with a five play, 75-yard drive for the Falcons.
But then both offenses kind of fell apart. Tampa Bay fumbled on its second possession, but with the ball at the 14-yard line the Atlanta offense couldn't capitalize with a touchdown and had to settle for a field goal. Tampa Bay fumbled again on its next drive, and once again all Atlanta could manage was a field goal.
Atlanta appeared to be in control of the game, but only led by six—that is, until they helped Tampa Bay get back in the game when Matt Ryan fumbled at the 20-yard line. Gerald McCoy recovered the ball and two plays later Winston threw his second touchdown pass of the day to Mike Evans.
Could this be the tipping point? Would the Falcons fall apart, hand Tampa Bay the win, and go on to lose six in a row again? Or would they rebound from the mistake, overcome it, and go on to earn win No. 6?
Starting with their next offensive possession and ending with their first of the fourth quarter, the Falcons score 27 unanswered points to take a commanding 40-14 lead over Tampa Bay with 9:56 left to play in the game.
Tampa Bay would finish the game with a pair of touchdown drives, but the Atlanta defense made them work for them. So when Mike Glennon (who took over for an injured Jameis Winston) tossed a two-yard touchdown pass to Cameron Brate to close the gap to 43-28 with 59 seconds to go, it was too late for the Buccaneers.
The win solidifies their position on top of the NFC South and the only team in the division with a winning record. However, if they are not careful, they could get overtaken by the New Orleans Saints or maybe even the Carolina Panthers.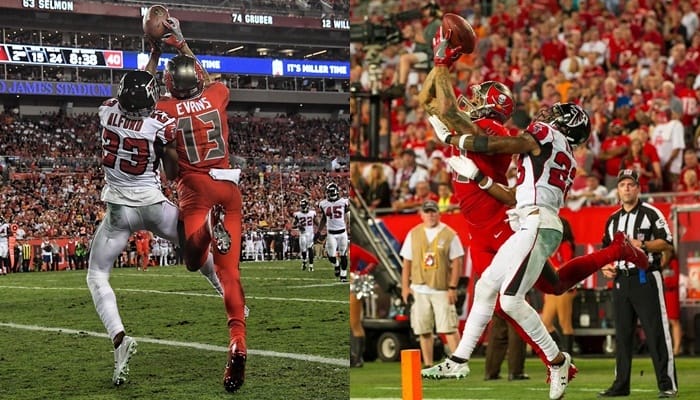 After a slow start, the Saints have won three of their last four and Drew Brees is playing better than ever. Carolina is just 2-5, but if there is any team that could get it together and go on a winning streak it would be the Panthers.
So—is it safe to believe in the Falcons or should fans be worried about the Saints and Panther? If fans are not sure what they want to do, they should just listen to Julio Jones:
"Yeah, we're in a good place, but New Orleans, they're making noise over there," Jones said. "Carolina is, too. They just beat a great Cardinals team that we're going to have to play. And New Orleans just beat the Seattle Seahawks, that we lost to in Seattle.
"You definitely have to be aware of those teams. But it's still one game at a time. Right now, it's on to Philadelphia."