Posted on July 23, 2016, by Travis Pulver
Former Baltimore Ravens running back Ray Rice was not convicted of a crime in a court of law. Greg Hardy was but won on appeal when the victim decided not to show up.
He got off on a technicality; not because he was deemed innocent yet his career has continued. The Dallas Cowboys tried to look beyond his past, but Hardy proved to be problematic in more ways than one. As long as he could contribute, he had a job.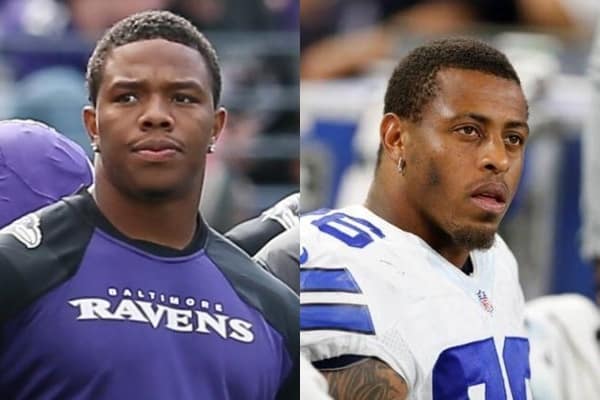 While public opinion has not eased up on Hardy, the Jacksonville Jaguars had him come to town for a workout. After seeing the reaction just doing that created, the Jaguars made sure the public knew it was just a workout, and they had no immediate plans to sign him.
Sign up for a FREE Consultation to start working with Legendary Sports Bettor Jon Price
Ray Rice, on the other hand, has not played a down since his suspension. Recently, he stated that he is aware his career is probably over. No one is willing to give him a shot; they don't want to deal with the public outrage even though he has been out of the public eye for the last couple years.
In fact, when he has been in the public eye, it has been because he's been speaking out against domestic violence and telling his story. But still—nothing.
In a last ditch effort to generate interest among teams, Rice has announced, if signed to a team for the coming season, he will donate his entire paycheck to domestic violence organizations (USAToday):
"All the scrutiny that I've got, it was deserved, because domestic violence is a horrible thing," said Rice, the three-time Pro Bowl running back banished by the NFL (but later reinstated on appeal) amid outrage over the video recorded nearly 2 ½ years ago.

"Me donating my salary is something that'll be from the heart for me. I only want to play football so I can end it the right way for my kids and for the people that really believed in me. But I know there's a lot of people affected by domestic violence, and every dollar helps. It's raising awareness.
For those that think he would give up his paycheck just to get back on the field he had this to say:
"…I'm not saying I'd be (donating the salary) to get on the field, but it's something that will show where my heart is. My heart is about finishing the right way and helping people along the way."
League minimum for him would be right around $885,000. Plenty of domestic violence shelters could use a cut of that kind of money. No one would be mad at a team that put him on the roster just to see him follow through on his promise.
So the bad press excuse doesn't work like it used to. Rice and the team that signs him could look good in this scenario. Of course, no team is going to give a coveted roster spot to just anyone; he will need to show he can still play.
But if he is going to get a shot, he has to get released from the court of public opinion. The public has to allow a team to give him a shot. He has worked hard to make amends for his actions. While nothing will make up for what he did, he has proven that he is no longer "that guy."
Greg Hardy, on the other hand, has done nothing to show any remorse for his actions. Instead, he has tried to excuse them (ESPN):
"…I didn't say that I didn't do anything wrong. That situation occurred and that situation was handled but … saying that I did nothing wrong is a stretch but saying I am innocent is correct. Yes sir."
And has even denied any wrongdoing (ESPN):
"I've never put my hand on ANY women … In my whole entire life, No Sir. That's just not how we're raised. As you can tell, like I said again, it's the Bible belt," he said. "It's just something that's, I wouldn't even say frowned upon, just something that's nonexistent in most southern homes."
For some reason, teams are still willing to bring him in. Jacksonville has even stated that they will not let public opinion to sway them should they decided the team could use a little help. In a sense, it is good that they will not let public opinion dictate what they do, but at the same time, it puts a spotlight on something that is wrong in the NFL.
Greg Hardy is guilty, knows it, knows we are aware of it, and yet all he's done is try to soften his image on Twitter. Ray Rice has been imperfect, but at least has been apologetic and has made efforts to make amends.
Whenever we screw up, we all like to have a second chance. We want an opportunity to make it right and prove to ourselves and the world what kind of person we really are.
Greg Hardy hasn't shown that he thinks he needs a second chance because "legally" he's done nothing wrong. Ray Rice has.
This is not to say that Rice should be given a shot because he's willing to donate his salary to charity. Perhaps he shouldn't be vilified anymore, though. That sort of attention needs to be focused where it is 100 percent deserved.