Posted on July 11, 2016, by Travis Pulver
Houston Texans defensive lineman J.J. Watt is a beast. He is one of the best defensive lineman in the league if not the best and has a pair of defensive MVP awards as proof. For the most part, he is loved and admired by all. However, just like every other popular player, he has his detractors.
It appears that former Dallas Cowboys wide receiver Michael Irvin can be counted among them.
The former commentator shared his thoughts on Watt being named No. 3 on the NFL Networks "Top 100" list—and they were not nice. He essentially said Watt is overrated because he has yet to win a Super Bowl:
Sign up for a FREE Consultation to start working with Legendary Sports Bettor Jon Price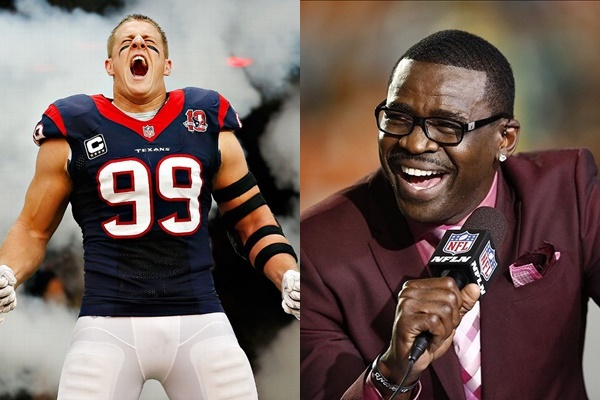 "Whose fault is it? He's the star of the team," Irvin said, via the Houston Chronicle. "If the Dallas Cowboys lose on my watch, it's my fault. If you're the baddest man on the team, you've got to take it both ways when it ain't going right and you ain't winning, that's on you. J.J. Watt's been the baddest man in the league, and they haven't gotten close to any kind of championship."
One of the other commentators on the show tried to defend Watt by pointing out that it wasn't Watt's fault the team hadn't been more successful, but Irvin didn't care. Irvin went on to say he would rather have Carolina Panthers linebacker Luke Kuechly than Watt because he thinks Kuechly makes everyone around him better.
While he has a point, there is only so much any player can do to help another look good. The other guy has to have enough talent and athleticism to take advantage of the opportunities Watt or Kuechly create. With the injuries, the Texans have had on defense the last few years the talent level was lacking.
Carolina, on the other hand, has one of the best collections of defensive talent in the league. When a guy like Kuechy makes the plays that he does, it isn't hard for another player that is pretty good, to shine.
Stars are supposed to lead their team to the playoffs and Super Bowl glory. Kuechly was a major factor in the Carolina Panthers making it to the Super Bowl last season. While he didn't lead the team to victory, Denver Broncos superstar Von Miller did. However, to be fair, both had offenses led by pretty good quarterbacks—Peyton Manning and Cam Newton.
Watt had to make due with an offense led by Ryan Mallett, Brandon Weeden, Brian Hoyer, and T.J. Yates that had to make due with a running back by committee after losing Arian Foster for the season.
Irvin was a great player in his day, but the blows to the head may have caused him to forget something very important about football—it's a team sport. You could take Watt, Kuechly, Miller, or any of the other players in the top 10, place them on the Cleveland Browns, and the Browns will still be terrible because of a lack of talent. One guy does not win the game or make a team a contender. The other 21 starters have to pull their own weight as well.
Watt is far from perfect, but he is also far from being the reason why the Texans have yet to win the Super Bowl.