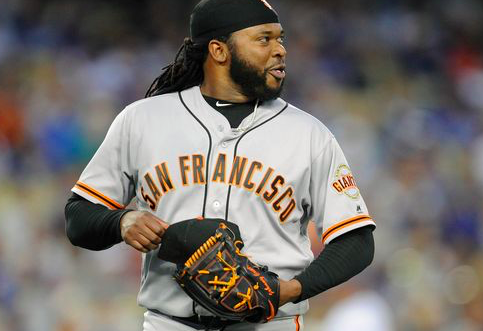 Posted on September 22, 2016 by Bryan Zarpentine
After suffering a groin strain on Tuesday night, San Francisco Giants pitcher Johnny Cueto is expected to miss at least one start while the injury heals. Cueto left Tuesday's start against the Los Angeles Dodgers in the 6th inning with groin pain. An MRI taken Wednesday revealed a Grade 1 groin strain, which is the best-case scenario from San Francisco's standpoint. However, Giants manager Brucy Bochy suggests it could take Cueto a week to recover, meaning he's in line to miss at least one start, possibly more.
Cueto's next start is set to be Sunday against the San Diego Padres, but Bochy says he is "questionable" to make that start. The Giants have not made plans for who would replace Cueto if he's not able to pitch.
The Giants currently have more than a dozen pitchers in their bullpen, so there are plenty of options to replace Cueto on Sunday. The three that jump out are Jake Peavy, Matt Cain, and Ty Blach. All three pitched on Wednesday when Matt Moore was knocked out of the game in the 2nd inning and should have no problem being ready for a start on Sunday.
Sign up for a FREE Consultation to start working with Legendary Sports Bettor Jon Price
Both Peavy and Cain have been used sparingly since being moved to the bullpen, although Bochy has been slightly more impressed with what Cain has done as a receiver. Neither is likely to have the stamina to go too deep into a game, and neither has been all that effective this season, so using both pitchers to get the Giants through the first five or six innings could be an option.
Blach may be a better option than either Peavy or Cain, as he won 14 games and posted a 3.43 ERA in triple-A this season. The lefty has made just two relief appearances since being called up on September 1, but he threw three shutout innings in each outing, including Wednesday night after Moore's early exit. Blach would appear to be better prepared to go deep into a game than either Peavy or Cain, and based on the performance of San Francisco's bullpen this season, the less the Giants rely on their bullpen the better.
If Cueto is unable to pitch on Sunday, the Giants hope to slot him into the rotation next Tuesday following an off day on Monday. If he's healthy enough to pitch on Tuesday, Cueto would then be in line to start the regular season finale the following Sunday, which would also come against the Dodgers.
Cueto has been at his best in September, posting a 1.59 ERA in four starts, winning all of them except Tuesday's outing. This makes it all the more important that the Giants have him the final week and a half of the season. If he's healthy by next Tuesday, Cueto can still make two more starts before the end of the regular season, but there's no guarantee it will work out that way.
The Giants enter Thursday in a three-way tie for two wild card spots with the New York Mets and St. Louis Cardinals, making every game the rest of the season akin to a playoff game. Needless to say, Cueto missing any start at this point in the season is a blow to San Francisco's postseason hopes.