Posted on October 30, 2016, by Travis Pulver
After last season, it was widely believed that Indianapolis Colts head coach Chuck Pagano was not going to be back for the 2016 season. It wasn't that he did a bad job with the Colts. He just didn't do a good enough job. Rumor had it that Jim Irsay was not going to be patient. He wanted to win a Super Bowl with Andrew Luck now—and then a couple more later.
So apparently, Chuck Pagano and general manager Ryan Grigson (who was also retained) were not the men to lead the team to the Promise Land—but then they were. Irsay brought both, Pagano and Grigson, back, and while he'll never admit it, he probably wishes he hadn't.
Sign up for a FREE Consultation to start working with Legendary Sports Bettor Jon Price
At the midpoint of the 2016 season, the Colts are not mathematically eliminated from the playoff, but the odds are severely stacked against them after Sunday's 30-14 loss to the Kansas City Chiefs dropped their record to 3-5.
So—what happened this time? Was it the lack of a running game? Poor defense? Andrew Luck? All of the above?
Andrew Luck led the team in rushing with 60 yards on nine carries. Frank Gore had just 37 yards on nine carries, easily his lowest total of the season (also had three receptions for 25 yards and a touchdown). Earlier this season Gore complained publicly that he didn't come here (to Indianapolis) for this (losing, not getting carries).
Well—he wasn't brought to town to average 3.88 yards a carry. He averaged only 3.7 a carry last season and before Sunday was gaining 4.2 yards a carry this season.  Against the Chiefs, he had just 3.88 yards a carry.
Of course, it is hard to gain yards when the offensive line does not open holes for you very often, but he gets paid to do a job—and he's not doing it very well.
The defense did not do a very good against either of Kansas City's quarterbacks. Alex Smith was knocked out of the game with a possible concussion during the opening drive but later returned to the game after getting cleared by the med staff. He would eventually be knocked out of the game with a concussion in the second half (ESPN).
His replacement, Nick Foles, looked like the guy fans in Philadelphia came to know and love a few year ago. Foles had no problem picking apart the Colts secondary completing 16 of 22 passes for 223 yards and two touchdowns. When he played, Smith a little more trouble with his accuracy than Foles completing just nine of 19 attempts for 127 yards and a touchdown (ESPN).
The Chiefs also lost running back Spencer Ware to a concussion, but Charcandrick West picked up the slack in his place (14 carries, 52 yards).
Then there was Andrew Luck. The $140 million man did not look like someone that deserved an $87 million guarantee. By his own admission, he struggled:
"I know I struggled," Luck said. "I think every offensive player in the room feels like we let each other down in a sense. In my mind, I feel like I let the team down. Turnovers bad. Simple things that you can't do in the NFL and expect to win games."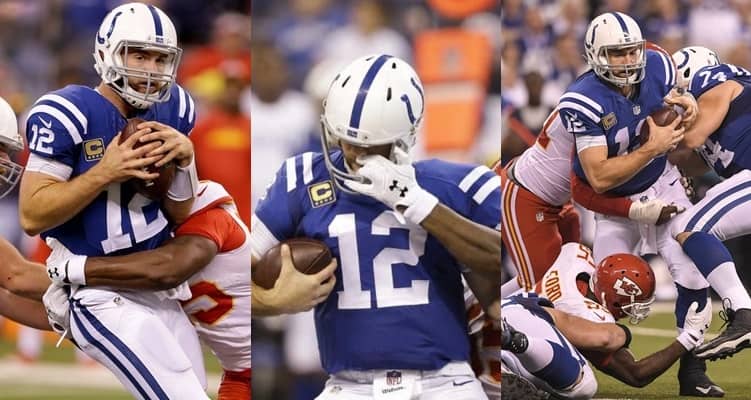 Accuracy has never been his strong suit, but he had a lot of trouble hitting his receivers Sunday. At the half, he was only nine of 17 for 103 yards. He ended up finishing the day 19-35 for 210 yards with two touchdowns and an interception. The pick resulted in a touchdown and a 17-7 lead for the Chiefs at halftime.
Luck was also sacked six times putting him well ahead of the rest of the league in times sacked (31).
The problems with the Colts are many. They are sloppy and at times appear to be unprepared—which is an issue with coaching. However, the personnel on the offensive line is terrible, and the defense isn't much better. That falls on the general manager.
With how the team is playing, Jim Irsay is only going to have one choice at the end of the season—Pagano and Grigson must go.