Posted on October 27, 2019, by Travis Pulver
All of the one-loss teams at the top of the college football rankings owe the Kansas State Wildcats at least a thank-you card, if not a fruit basket. Why? Because since they beat Oklahoma Saturday afternoon, every one-loss team at the end of the regular season will have a shot at sliding into one of the college football playoff spots.
But wait—wasn't their six undefeated teams at the top of the rankings entering the weekend? So, isn't there still five? Yes, however, with Alabama set to face LSU soon and Ohio State and Penn State scheduled to play, there will be a max of three undefeated teams at the top.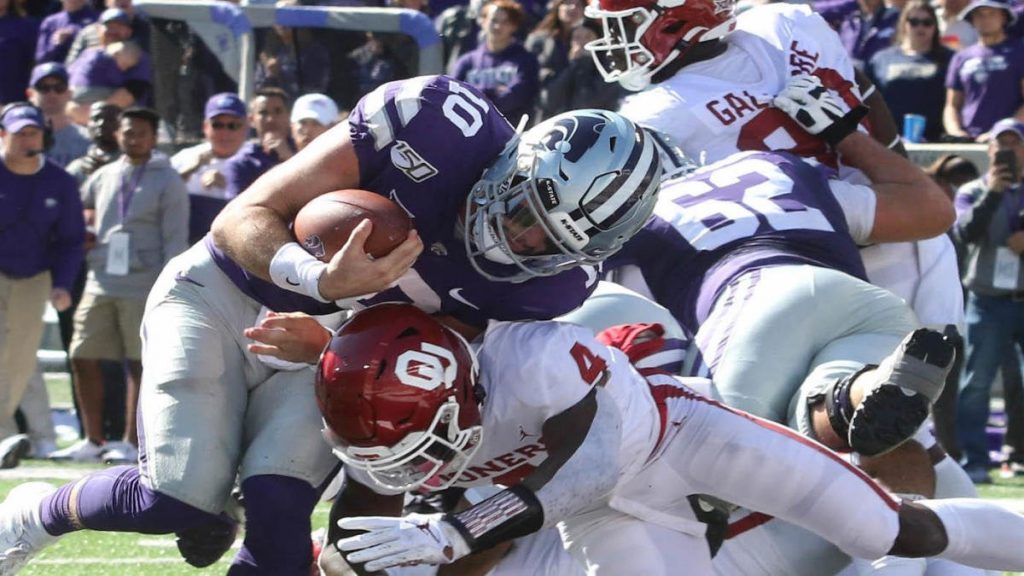 That means there will be at least one team with only one loss in the college football Final Four this year. But who?
Whoever loses between Alabama-LSU and Ohio State-Penn State will certainly have the edge. All four would still have reasonably good resumes even with a loss on their record. Although, Alabama may have the toughest time surviving a loss with only one notable win (LSU or Auburn) since the rest of their schedule is pretty soft.
LSU already has wins over Texas, Florida, and Auburn. Penn State can claim victories over three ranked teams assuming they beat Minnesota this week, but with all three outside of the top-15, they may not be viewed as enough. Should Ohio State fall to the Nittany Lions, they will still have wins over a ranked Michigan State team, Wisconsin, and Michigan.
So, does that mean the top four is all but decided already? If so, what's the point of even tuning in until the end of December?
Well—because, even if they are undefeated, Clemson may not be a lock to make it in. Yes, they are the defending champs, but that shouldn't impact the standing this year. But they simply haven't played anyone. Their signature win is going to be over then-No. 12 Texas A&M.
While they have decimated the competition—they should have decimated them. In the process, they often didn't play well.
What if Auburn takes down Alabama in the Iron Bowl or if Texas A&M manages to defeat LSU? What if Ohio State loses to Michigan? There are all kinds of plausible scenarios where most of the undefeated teams could fall once or maybe even twice—which means a lot of one-loss teams could have a shot.
Florida will certainly belong in the discussion if they can beat Georgia this week (which would effectively knock Georgia out of contention). Georgia would deserve to be in contention if they beat Florida and Auburn, and especially if they beat Alabama in the SEC Championship game.
Oklahoma could work their way back into the conversation with wins over Iowa State, Baylor, and whoever they face in the Big 12 title game. But they may need help to have a real shot since their schedule isn't particularly strong.
It is not outside the realm of possibility for a Pac-12 team to earn a shot. Oregon's lone loss is to Auburn in Week One and Utah's to a good USC team. But with their schedules, whoever wins between the two in the Pac-12 title game would still need help to make the top four.
So, thanks for beating Oklahoma, K-State. You've made the rest of the college football season a lot more interesting.