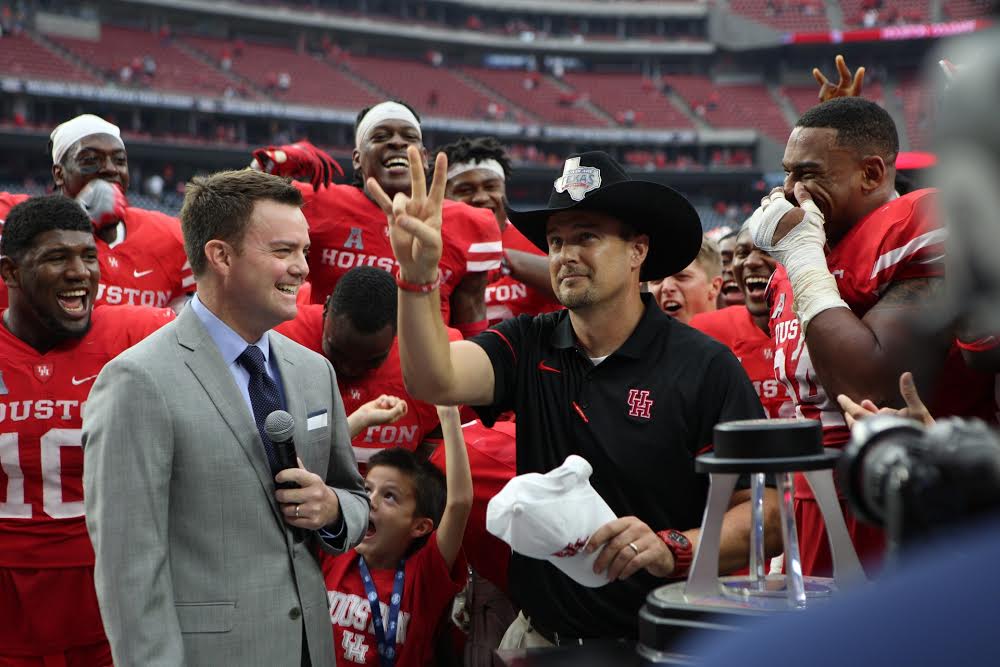 Posted on September 4, 2016, by Travis Pulver
Everyone hopes they get to live "the dream" someday. What's "the dream?" Well—it is probably a little different for everyone, but we all want to marry someone that is gorgeous, do what we love for a living, get paid a ton of money to do it, and have people clamoring for us to do it for them.
Tom Herman has a gorgeous wife and makes a ton of money as the head coach of the University of Houston football team (the Cougars). After guiding Houston to a 13-1 record last season, the University raised his salary to $3 million a season to keep larger programs from stealing him. If the team can build off of Saturday's 33-23 upset win over No. 3 Oklahoma, the University better be prepared to give him another raise.
Oklahoma was supposed to be the bigger team that was stocked with proven veterans and highly recruited players. Houston, in Herman's own words, is more of a collection of two and three-star players. Many of the critics thought the size of the Sooners offensive and defensive lines would control the game, but instead, the Sooner running game was held to 70 yards and Baker Mayfield was sacked five times.
Sign up for a FREE Consultation to start working with Legendary Sports Bettor Jon Price
The first half was pretty competitive, but when Brandon Wilson took a missed field goal 109 yards and 35 inches for a touchdown about midway through the third quarter, Houston had the game firmly in hand. Had there not been a botched handoff on the goal line late in the fourth quarter, the score would have been pretty lopsided.
It appears that the University already made one move to keep Herman from leaving town if a bigger school comes calling. Houston is trying to join the Big 12, and if they do Herman will receive a nice $5 million bonus.
"We want him to be our coach for the very long term," Houston athletic director Hunter Yurachek told reporters during halftime of Saturday's game against Oklahoma (ESPN). "It was a special memo between Coach Herman and myself. It's not officially in his contract, but I'd be glad to share it with you. It is legally binding. It's a memo from myself to coach Herman. The university will honor that. It's got my signature and his signature as employees of the University of Houston."
Of course, to stay in contention for a future spot with the Big 12, the Cougars are going to have to keep winning. Controlling Oklahoma as well as they did was a good start, but Houston will only face one truly tough team for the rest of the season—Louisville on November 17.
Navy, Connecticut, and Memphis will not be pushovers, but they didn't appear Saturday in their respective games to be anywhere near as good as they were last season.
Due to a lack of serious competition, just winning is not going to cut it. Houston is going to need to make it look easy when it should be easy and even easier when it should be hard—which seems to be when Herman is at his best.
Under him, Houston has been the underdog four times and twice by 13.5 points (Louisville in 2015 and Saturday against Oklahoma). They won all four games with an average margin of victory of 12 points. Going back to his time at Ohio State, Herman's team has been an underdog ten times 2012. His team won all ten games.
It will be a little bit tougher going forward now that the college football-loving free world is watching the Houston Cougars. As long as Herman has his playmakers—guys like Heisman candidate Greg Ward Jr., Duke Catalon, Brandon Wilson, Steve Dunbar, and Ed Oliver—the glare of the spotlight will probably not matter.
Should Herman and the team continue to thrive, not only will Houston be accepted into the Big 12, but Herman is going to be in demand more than ever—and not just by college teams.
So–yes, life is good for Tom Herman—and it's only going to get better.