Lucas Oil Stadium
Indianapolis Colts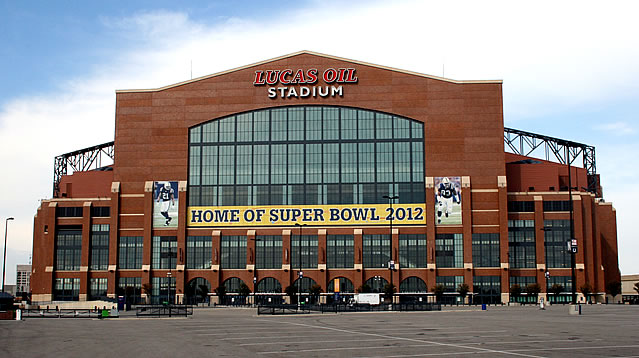 About Stadium
A multi-purpose facility constructed in downtown Indianapolis, Indiana, Lucas Oil Stadium is the home of the National Football League's Indianapolis Colts.
The naming rights of the stadium were sold prior to work being started on the stadium in 2006 when Lucas Oil purchased the naming rights for $121 million and named it Lucas Oil Stadium.
The stadium is equipped with a retractable roof and a large window wall on the north end zone which allows a lot of natural lighting. The retractable roof was designed by Uni-Systems and is made up of two half panels that slope towards each side of the field into an open position.
Sign up for a FREE Consultation to start working with Legendary Sports Bettor Jon Price
The stadium has already hosted Super Bowl XLVI in 2012, and is also scheduled to host it again in 2018.
In 2010 and 2015 the site featured the Men's National Championship semifinal and final rounds of the Final Four tournament, and is again scheduled to feature the event in 2021.
The stadium is over 5,000 more seats that the Colts' old home field at the RCA Dome.
•Capacity: 67,000
•Opened: August 16, 2008
•Playing Surface: FieldTurf
•Location: 500 South Capitol Avenue
Indianapolis, Indiana 46225
History
• Construction on Lucas Oil Stadium began on September 20, 2005 and was referred to as Indiana Stadium at the time, till the naming rights were purchased by Lucas Oil.
• Forrest Lucas announced that his company, Lucas Oil had won the bid for the naming rights of the stadium in a 20 year deal for $121 million on February 28, 2006.
• The Big Ten Football Championship Game has been played at Lucas Oil Stadium ever since its first year in 2011.
• On August 1, 2013, the field hosted its first professional soccer match, as English Premier League's Chelsea faced off against Inter Milan in an International Champions Cup game with around 40,000 people in attendance.
• The Women's NCAA National Championship Final Four Tournament is schedule to be played at Lucas Oil Stadium in 2016. Indianapolis is a city in a 5-year rotation for hosting the Final Four, as the NCAA headquarters are located there.
Past and Current Teams
Indianapolis Colts (NFL) (2008–present)