Posted on August 2, 2016, by Travis Pulver
Rob Gronkowski does not like his contract. He has made that clear during the offseason. If the New England Patriots are smart, they will tear up his contract now, give him a raise, and then resign him before the regular season starts. Not because he has outplayed his contract, but because if they don't, with the help of his new buddy—Martellus Bennett—he is going to become worth even more.
During the off-season, the Patriots made the easiest personnel decision ever when they picked up Gronkowski's $10 million option. In doing so, they locked in one of the most dangerous offensive weapons in the NFL for a tiny percentage of what he is worth.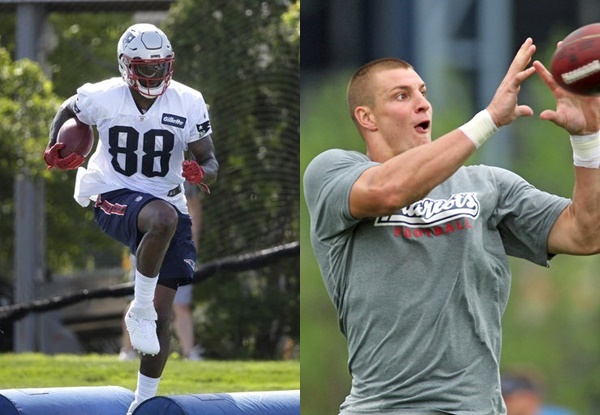 He was already underpaid, but for the next two years, his base pay is going to be less than what he made last season. He'll have a few more bonuses coming his way, but not enough to make up the difference.
Sign up for a FREE Consultation to start working with Legendary Sports Bettor Jon Price
Gronkowski is actually tragically underpaid as lesser tight ends like Julius Thomas, Jimmy Graham, Travis Kelce, and Jordan Reed now make more than he does (Sportrac). They are good in their own right but are certainly not better than he is.
Rumor has it that his agent is in town to talk with the Patriots front office about his contract. Gronkowski is actually under contract for four more years so the team does not need to do anything, but it sure wouldn't hurt to keep one of the best offensive weapons in the NFL happy.
If they are going to restructure his deal, they may want to do it now before Martellus Bennett makes him look even better than he is.
How so? Well—according to media reports, Gronkowski has said he is learning from Bennett and seeing things in Bennett's game that he can use in his.
 "He's a great guy to work with," Gronkowski said of Bennett recently (Boston.com). "He's football smart. He came in. He's picked up the playbook well, which is super, super beneficial here for our offense. That's super good to see, and it's fun working with him. It's another guy that's just super talented, and wants me to push harder."
It sounds like the Bennett and Gronkowski are working well together. So well that they have even started coming up with cute, little nicknames for each other. Gronkowski recently posted a picture to Instagram of the two celebrating a play in practice with the caption "Ebony and Ivory." Bennett countered with another picture of the two of them on his Instagram page with the caption "Feeling like Ken and Ryu. Hadouken!"
Bennett's goofy personality should help him work well with an all-pro goofball like Gronkowski. Bennett's humor was evident recently when he commented on developing chemistry with Tom Brady and Jimmy Garappolo. He compared it to his love life:
"I've dated two girls at the same time," Bennett joked with reporters following practice last Friday (CBSLocal).
Bennett got a good laugh from reporters when he talked about ending last season on the IR and getting back to playing football this season:
"Football is fun. I just love playing. I ended up on IR [Dec. 8 last year], so I haven't had much football in a long time," he said (ESPN). "It's like when you break up and finally get back with the girl you love in the first place."
So—how will Bennett help Gronkowski get paid?
The last time Gronkowski had another talented tight end (Aaron Hernandez) to work with was the 2011 season which happens to be his most productive season—90 receptions, 1,327 yards, and 17 touchdowns.
Gronkowski struggled with injuries for a couple of seasons but has gone for 1100+ yards and 10+ touchdowns the last two seasons (and without another star tight end to line up with). With Bennett in the fold, it is not hard to see Gronkowski return to the kind of numbers he had before Hernandez went to jail.
Should that happen, and the Patriots do decide to renegotiate his contract, Gronkowski will have even more leverage. So if they are going to do it, they may want to go ahead and do it now before he breaks any records this season.