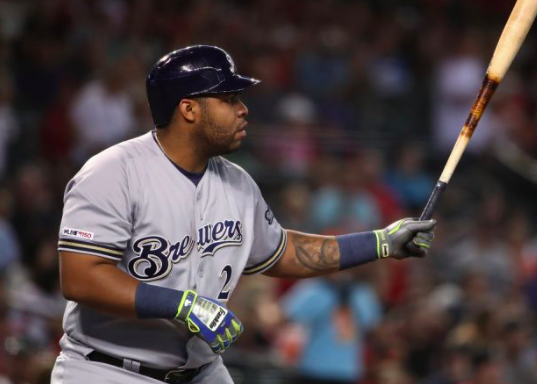 Posted on December 3, 2019, by Bryan Zarpentine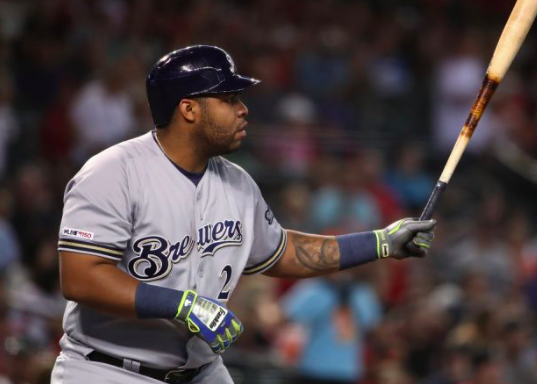 The tide may finally be starting to turn on South Beach. The young, rebuilding Miami Marlins appear to be making moves to become more competitive. On Monday, the Fish added veteran slugger Jesus Aguilar and infielder Jonathan Villar. In fairness, Miami added two players who were deemed disposable by their former teams. However, the Marlins still added two proven big leaguers who should help them improve their chances of competing in 2020.
Miami's first move was claiming Aguilar off waivers from the Rays. Aguilar is just one year removed from a breakout season with the Brewers in 2018. He hit .274 with 35 home runs, producing an OPS of .890 while playing an important role in helping the Brew Crew reach the NLCS that season. He was also chosen for the All-Star Team. However, Aguilar struggled to replicate those numbers in 2019 and was eventually traded to Tampa Bay midseason. With the Rays, he improved a little, but not enough for the Rays to keep him around in 2020.
In Miami, Aguilar will have a chance to re-establish himself and become the team's primary first baseman. He will compete with Garrett Cooper and Austin Dean for playing time. Dean hasn't produced much in the majors, although Cooper is coming off a decent season, hitting .281 with an OPS of .791, helped along by 15 home runs. Dean and Cooper are both capable of playing left field while Aguilar has rarely played anywhere but first base. However, all three are right-handed hitters, meaning playing time will likely be decided based on which player produces the most.
Sign up for a FREE Consultation to start working with Legendary Sports Bettor Jon Price
Meanwhile, Villar was acquired in a trade with the Baltimore Orioles. The Marlins sent minor league pitcher Easton Lucas to the Orioles as part of the trade. Baltimore was willing to part with Villar in an attempt to save money, make it a little surprising that Miami was willing to take on his salary, which is projected to be around $10 million in arbitration.
"He was a tremendously exciting player for us, a joy to have," Orioles GM Mike Elias said of Villar "It was hard to let him go, but we've got to keep an eye on our strategic objectives."
Villar had his breakout offensive season with the Brewers in 2016 but has never matched his productivity of that season. The Brewers gave up on him in 2018, trading him to the Orioles for second baseman Jonathan Schoop. Villar saw an uptick in his production after the move to Baltimore. In 2019, he hit .274 with a career-high 24 home runs, producing an OPS of .792. But with just one year of arbitration left, Villar didn't fit into Baltimore's long-term plans. The Marlins are now hoping that he can help them improve their win total in 2020.
Of course, how the Marlins sort out their middle infield remains to be seen. Villar is capable of playing either shortstop or second base. Miguel Rojas, Isan Diaz, and Jon Berti should also factor into the equation. Rojas was the team's primary shortstop last season, although he's somewhat limited offensively. Berti, who is more of a super-utility player, had the best offensive season of the three returning infielders. Diaz, meanwhile, struggled in his first taste of the big leagues but has good upside.
Despite some uncertainty about how Villar and Aguilar will fit into Miami's lineup, the Marlins undoubtedly made themselves better by adding those two. They aren't the kind of major additions that Miami's NL East rivals are likely to make this season. But for a team that lost 98 games in 2018 and 105 games in 2019, adding Villar and Aguilar is a big step in the right direction.