Miller Park

Milwaukee Brewers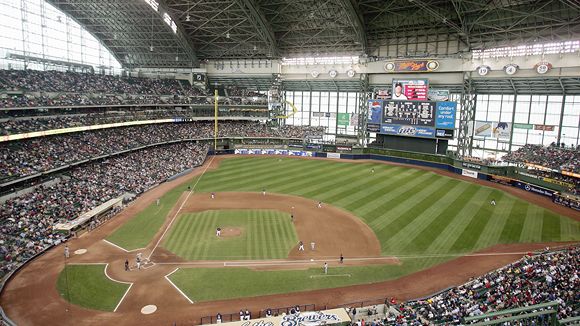 About Stadium
A multi-purpose stadium located in Milwaukee, Wisconsin, Miller Park primarily serves as the home field for Major League Baseball's Milwaukee Brewers.
The field has a retractable roof that can open and close within 10 minutes, as well as a number of other modern amenities to give a contemporary feel to the park.
Miller Park was constructed to replace the Milwaukee Brewers' old home field of Milwaukee County Stadium which was the home of the Brewers from 1970 to 2000.
Sign up for a FREE Consultation to start working with Legendary Sports Bettor Jon Price
The naming rights to the stadium are owned by local brewer, the Miller Brewing Company.
• 1 Brewers Way
Milwaukee, Wisconsin 53214
• Opened: April 6, 2001
• Capacity: 41,900
History
• Construction on the new Miller Park stadium was started on November 9, 1996 and was ready to be opened short of 5 years later on April 6, 2001.
• A large crane that was brought in to construct the retractable roof collapsed on July 14, 1999 due to excessive winds, resulting in the death of three workers.
• After the 2006 season drew to a close, the retractable roof's bogie system was replaced at a price tag of just over $13 million.
• The stadium has underwent a number of renovations throughout its time, including in 2006 when two LED scoreboards were installed as well as a second-level marquee scoreboard.
Current and Past Teams
Milwaukee Brewers (MLB) (2001–present)