Posted on December 19, 2019, by Bryan Zarpentine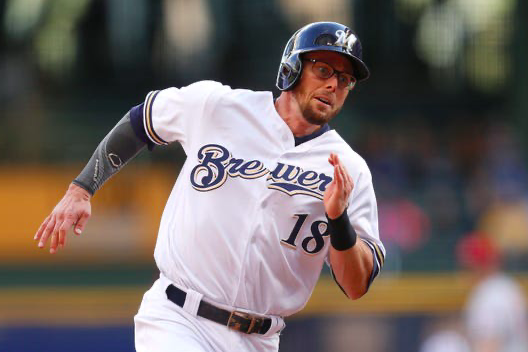 The Milwaukee Brewers have had a busy week. In fact, they've been busier than most teams this offseason. The Brew Crew made a big splash earlier this week by signing outfielder Avisail Garcia to a two-year deal. But they didn't stop there. Over the past 48 hours, the Brewers have also agreed to terms with infielders Eric Sogard, Justin Smoak, and Ryon Healy, showing no hesitation to fill out their starting lineup and bench before the holiday season.
Smoak is arguably the biggest addition of the three that followed Garcia. He signed a one-year deal worth $4 million with either a $1 million buyout of $5.5 million option for 2021. The 33-year-old has spent the last five seasons with the Blue Jays with his best season coming in 2017 when he smashed 38 home runs and posted a career-high OPS of .883. Over the past couple of years, he's returned to his old ways of being a low-average, big-power type hitter. In 2019, Smoak hit just .208 but still hit 22 home runs, producing an OPS of .748.
With Garcia coming aboard, he's likely to be Milwaukee's primary left fielder in 2020. That figures to finally push Ryan Braun to first base, a move that has long been speculated. Of course, with Braun being inexperienced at first base, the Brewers would be wise to find an experienced first baseman to help out. Smoak would appear to fit that description perfectly. Since he's a switch-hitter who performs better against righties, Smoak could be an ideal platoon partner for Braun at first base and a viable defensive replacement late in games.
Sign up for a FREE Consultation to start working with Legendary Sports Bettor Jon Price
With Sogard, who signed a one-year, $4.5 million deal with an option for 2021, Milwaukee is getting a versatile utility man. He was a part-time player with the Brewers in 2017 and 2018. Sogard excelled in that role in 2017, but couldn't replicate the same performance the following year. He split last season between the Blue Jays and Rays, ending up with a .290 average and .810 OPS.
In 2020, Sogard figures to provide middle infield depth behind players like Keston Hiura, Orlando Arcia, and Luis Urias. He could also provide depth in the outfield if the Brewers experience injuries there. Sogard could also see regular playing time at third base, where Milwaukee has no full-time solution at the moment.
Of course, Healy is a potential option at third base as well. The Brewers picked him up after the Mariners cut ties with him at the end of October. Healy burst onto the scene during the second half of the 2016 season after making his big league debut with Oakland. He put together another solid campaign in 2017 before being traded to the Mariners the following winter. However, Healy struggled during his two seasons in Seattle, missing most of 2019 because of a back problem.
Despite a couple of disappointing seasons, Healy will only turn 28 in January. He's provided a good amount of power during his time in the majors and has the ability to play both first base and third base. For a team with an opening at third base, Healy is worth the flyer, especially since he also has minor league options. If he's healthy, he could be at least part of the solution at third base along with the versatile Sogard. Healy also gives Milwaukee another option at first base if needed.
On their own, the additions of Smoak, Sogard, and Healy don't move the needle too much for the Brewers. However, they filled several needs on their roster at a reasonable price. All three provide a fair amount of upside and could end up being solid regulars or capable bench players. For a team with limited money to spend, the Brewers have done a nice job of finding value this offseason. With several moves that make them incrementally better, Milwaukee should have enough to remain competitive in the NL Central next year.