Posted on November 22, 2016, by Travis Pulver
If you had asked anyone at the beginning of the preseason if they thought the Minnesota Vikings and Detroit Lions would be playing for first in the NFC North on Thanksgiving Day they would have laughed at you. Minnesota—maybe, but Detroit? No way! Fast forward a month and ask the same question after the Vikings lost Teddy Bridgewater to a season-ending injury and traded for Sam Bradford and the laughter would have been even louder.
But here they are with 6-4 records, tied for first in the NFC North, and set to battle it out for sole possession of the division on Thanksgiving. What may be even more surprising is that it could be a decent game.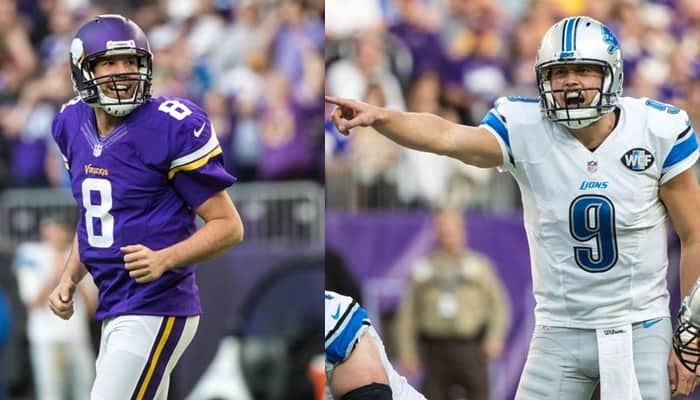 Sign up for a FREE Consultation to start working with Legendary Sports Bettor Jon Price
From how the first game played out, it should be a competitive one. Fans should not expect a ton of offense of course, but there will be enough to keep them from falling into a turkey-induced nap.
Both teams have terrible running games (Detroit—30th; Minnesota—32nd). If fans are lucky, neither will bother trying to run very much since they are not very good at it (Vikings average 2.7 yards/carry; Detroit averages 3.6 yards/carry). If either team really wants to win the game, they are going to have to give fans what they love most—passing. Stafford is accustomed to carrying his team with his arm, and has used it to engineer some beautiful comebacks this season.
Stafford is accustomed to carrying his team with his arm and has used it to engineer some brilliant comebacks this season.He may not have Calvin Johnson anymore, but he has a good corps of receivers in Marvin Jones, Golden Tate, Anquan Boldin, and tight end Eric Ebron. His running backs may be terrible when it comes to taking handoffs, but Theo Riddick has proven to be a decent threat in the passing game.
Many expressed concerns when the Vikings acquired Sam Bradford, but he is quietly having the best season of his career. Through nine games he is completing almost 70 percent of his passes (previous high was 65 percent last season for the Eagles), he's averaging 7.05 yards per attempt (also a new career high), and has a rating of 99.8 (previous high—90.9 for the Rams in 2013).
So why isn't the offense doing better than it has?
Maybe it is because the team tries to run the ball too much even though they are terrible at it. Maybe it's because they can't run the ball very well. Maybe it is because defenses know they just have to focus on the passing game in order to stop the Vikings offense. Maybe it's because they are not letting him pass the ball enough.
If Minnesota's defense comes to play, there is no reason why the Vikings can't run away with this one. The Lions defense is not good enough to stop the Vikings passing game, but the Vikings defense is good enough to stop the Lions passing game. That is if they bring their "A" game and don't play down to the competition.
When the two played a couple weeks ago, they didn't. They still limited Stafford's productivity, and had the team in a position to win–that is until they allowed the Lions to get into a position to win (and did). But if the Vikings defense can live up to the hype—and Sam Bradford gets Stefon Diggs involved early—the Vikings should win this one.