Posted on February 25, 2019, by Bryan Zarpentine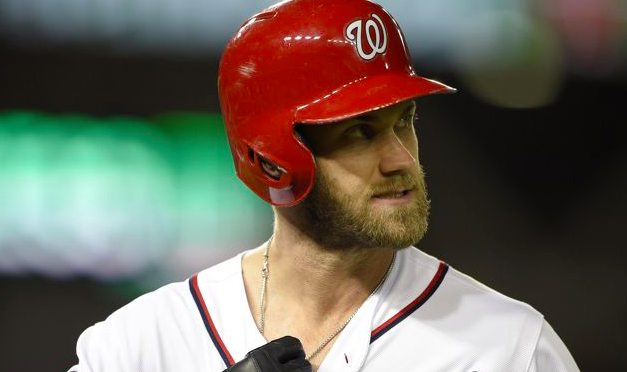 Well, spring training is underway and it appears the Bryce Harper saga is entering the final stretch. Unfortunately, things are far from official and there are still up to five teams still in the running. That includes the Los Angeles Dodgers, who have reportedly jumped back into the running at the 11th hour. With March right around the corner, Harper should make a decision soon, especially with Manny Machado signing with the Padres last week. Here is one final look at each team's odds of signing Harper.
Dodgers – 30%
As mentioned, the Dodgers have reportedly jumped back into the mix late in the game. That wouldn't happen if they weren't serious about trying to sign Harper. That means the Dodgers are immediately serious contenders for him. They have the money to exceed the $300 million that Machado got if they decide they want to spend it. Los Angeles also has the motivation after losing in the World Series the last two years. After signing A.J. Pollock, the Dodgers don't necessarily need another outfielder. But they would offer bright lights and a big market for Harper, especially one that's near his hometown of Las Vegas. In short, there are a lot of reasons why the Dodgers would be appealing to Harper.
Sign up for a FREE Consultation to start working with Legendary Sports Bettor Jon Price
Giants – 15%
Before the Dodgers jumped in, the Giants were considered second in the running behind Philadelphia for Harper's services. San Francisco is another team that came in late in the game but appears to have serious interest in signing Harper. Obviously, the Dodgers getting involved is bad news for the Giants. However, that could also motivate San Francisco to make an extra push for Harper, knowing that if they don't, they could end up having to face him 19 times a year for the next decade.
Nationals – 10%
The team that drafted Harper has been pushed to the background, but a return to Washington can't be ruled out completely. After all, the Nationals did offer him 10 years and $300 million last fall. Harper is obviously comfortable in Washington, so there's always a chance he goes back if the Nationals are willing to match his other offers. However, any hope of a reunion between Harper and the Nationals is clearly dwindling.
Phillies – 40%
The Phillies would be terribly disappointed if they don't end up with Harper or Machado. They are definitely poised to show Harper the money. However, Phillies owner John Middleton flew to Las Vegas to see Harper on Friday and couldn't close the deal. There's been a lot of growing optimism that the Phillies will find a way to get a deal done. But nothing is official yet, and if Harper is still in contact with other teams, it's not yet inevitable that he ends up in Philadelphia
White Sox – 5%
The White Sox were crushed that they didn't land Machado, so a knee-jerk reaction to going after Harper can't be counted out. That being said, Harper's price range, assuming he gets more than Machado, appears to be out of Chicago's comfort zone. However, the White Sox are reportedly staying in contact with Harper, so they haven't thrown in the towel just yet, even if it seems unlikely that Harper will end up with the White Sox.