Posted on October 20, 2016, by Travis Pulver
If you just look at the big picture, there is nothing unique or extraordinary about Monday Night Football this week. At this point in the season, a win or a loss does not mean as much to the Houston Texans or Denver Broncos. No one will care beyond next week who was 5-2 or 4-3. They will be focused on trying to become 6-2 or 5-3.
However, on a personal level, the game means quite a bit to the two quarterbacks, Houston's Brock Osweiler and Denver's Trevor Siemian. A win would help validate each team's decision to go with their respective quarterback. Both players could use the confidence boost that comes with beating a good team in front of a national audience.
Sign up for a FREE Consultation to start working with Legendary Sports Bettor Jon Price
Houston fans and media pundits have been slamming the $72 million deal the Texans gave Osweiler. Yes, he engineered a brilliant comeback against a weak Indianapolis Colts defense last week, but the Texans should never have needed one against such a bad defense.
Trevor Siemian was a better choice than Mark Sanchez but should he not play well, and Osweiler does, fans will be quick to criticize John Elway for not paying Osweiler and holding on to him when they had the chance.
Of course, neither quarterback will probably factor too much into who wins the game; at least not on a positive note. This game is going to be dictated by the defense, who can run the ball in spite of the defense, and which quarterback makes the fewest mistakes.
The two teams are No. 1 (Denver) and 2 (Texans) in the league in pass defense, and there is little reason to think either quarterback will beat the other's secondary. Chances are, neither will even try much (if at all).
Siemian hasn't had the interception issues that Osweiler has, but to protect his shoulder, the Broncos have had him getting rid of the ball faster by emphasizing quicker, shorter routes that do not require him to hold onto the ball as long. Against the Bengals, he averaged close to nine yards and attempt (8.91), but against San Diego, he only averaged 4.6 yards/attempt.
The drastic change must be either to protect him or because they don't trust his downfield game. When the Broncos were down by 18 to San Diego and needed to gain chunks of yards they stuck with the short game.
Houston seemed more reluctant to go downfield last week against the Colts until late in the game, but unlike Siemian, the issue is interceptions. Osweiler has eight on the season, second only to Ryan Fitzpatrick. It's kind of hard to prove you are worth $18 million a season if you keep giving the other team the ball.
But the task could be made a lot easier if the Texans can get their other prize free agent going, running back Lamar Miller. Last week against the Colts he had one of the most productive days of his career (149 yards and a touchdown on 24 carries; 29 yards and a touchdown on three receptions) and his best for the Texans.
Getting him started early will help keep the Denver offense off the field. The longer Trevor Siemian takes to get into a rhythm the better. Stopping the run is the one thing the Broncos defense is not good at (No. 21 in the league) so Lamar Miller very well could get off to a good start.
However, Denver will attempt to use the same strategy. The Broncos running game has been terrible lately which has put more pressure on Sieman to keep the offense moving. But with Houston's run defense being worse than Denver's (29th), the stage could be set for Anderson to have a breakout game.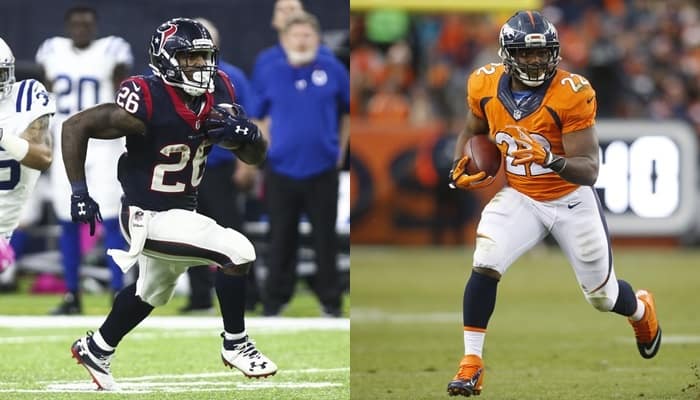 So while the Texans will look to get Lamar Miller going early, the Broncos will look to do the same with C.J. Anderson. Since Houston has the better offensive line, they may actually have the advantage, but neither will find it easy.
Houston's line will have its work cut out for it opening holes for Miller and keeping Von Miller and company off of Osweiler. Broncos linebacker Brandon Marshall made it clear what the defense wants to do to their former teammate:
"It's Brock. We know Brock. He came from here. And we want to kill him. That's just what we want to do."
Marshall was kidding of course; no one actually wants to kill him. Should the Texans lose and Osweiler turns in another lackluster performance, there will be others talking about "killing him" as well.
Most of them, like Marshall, will just be kidding of course.