Posted on December 6, 2016, by Travis Pulver
After the respectable showing the New York Jets made against the New England Patriots last week, there was a reason to hope they might give the Indianapolis Colts a decent fight Monday night—but only if that version of the Jets showed up.
It didn't.
Instead, it looked more like the Jets were sleepwalking rather than playing football Monday night. The defense line certainly didn't put up much of a fight. They managed to get just one sack all night against one of the worst offensive lines in the NFL. Colts running back Frank Gore had one of his most productive games of the season (20 carries, 79 yards), enough to move into 8th on the all-time career rushing list with 12,879 yards.
Sign up for a FREE Consultation to start working with Legendary Sports Bettor Jon Price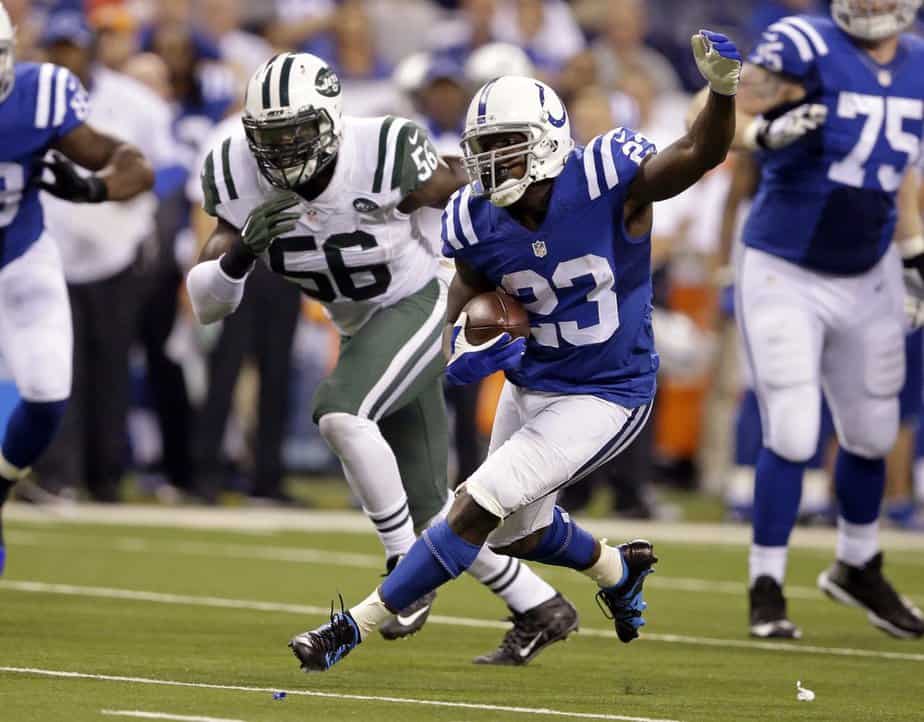 "When your name gets mentioned with the great guys that played this game in the past, that's very big," Gore said after the game. "I've been blessed to be playing this game. Twelve years in and I still love it. I'm still having fun. I just want to keep having fun and keep winning and see where we go from here."
The Jets secondary didn't do any better. Andrew Luck and T.Y. Hilton looked like they were playing flag football on the beach with Hilton hauling in nine catches for 146 yards (his first 100+ yard game since Week Seven against the Tennessee Titans).
But the real hero for the Colts was tight end, Dwayne Allen. Luck hooked up with him four times for 72-yards and three touchdowns—all in the first half! The last touchdown even came on a play where Allen was not the most open player on the field.
"It was a great night for everyone," Allen said after the game. "You hope that every night you go to play, it's a night like that. It's not realistic in the National Football League."
Luck, who had to sit out last week's game against Pittsburgh because of a concussion, made his return to action a great one completing 22 of 28 passes for 278 yards and four touchdowns (Donte Moncrief caught the fourth).
Colts head coach Chuck Pagano was clearly happy to have his superstar quarterback on the field again:
"The quarterback was outstanding," coach Chuck Pagano said. "It's always great to have your starting quarterback under center."
Fans of the New York Jets would probably disagree with that. Their starting quarterback, Ryan Fitzpatrick, struggled like he has for most of the season completing only five of 12 passes for 81 yards and an interception.
Jets head coach Todd Bowles finally had enough of Fitzpatrick and benched him at halftime. Bryce Petty finished the game for the Jets. He didn't look much better, but at least he has an excuse. Fitzpatrick is a veteran that has been playing all season. Petty is a second-year player with 34 career pass attempts, 21 completions, a single touchdown, and an interception to his name.
He should look inexperienced and green—and he did. Several passes were overthrown and underthrown. He ended up completing 11 of 25 passes for 135 yards, one touchdown, and two interceptions. The touchdown pass was a beautiful 40-yard bomb to rookie wide receiver Robby Anderson, the first of his career.
Fans will be hoping to see more passes like that from Petty since he is now going to be the starter for the remainder of the season.
"We could have won 45-0, (Bryce) was going to start the last four games," Bowles said after the game. "That's the slot we had penciled for him, that's a good time to take a look at him."
For the Colts, a game like this could not come at a better time. With the Texans losing their last three, the Colts needed to win to pull into a three-way tie for first place in the AFC South—but the Texans are up next for the Colts in Indianapolis. With a win, the Colts would have control of the AFC South.
Houston has only beaten the Colts in Indianapolis once—so the future looks good for the Colts.