Posted on February 3, 2017, by Travis Pulver
In a game where it takes 11 players working together to succeed, the NFL singles out one player every year as the most valuable player in the league. A running back or quarterback is usually the one that wins the award even though their success is almost dependent on how well other guys do their jobs (like the offensive line and wide receivers).
But since quarterbacks and running backs generate all the stats and make the big plays, they are the ones that get all the credit when awards are handed out. There have been running backs and quarterbacks that make exceptional plays despite their offensive line and wide receivers—but not too many.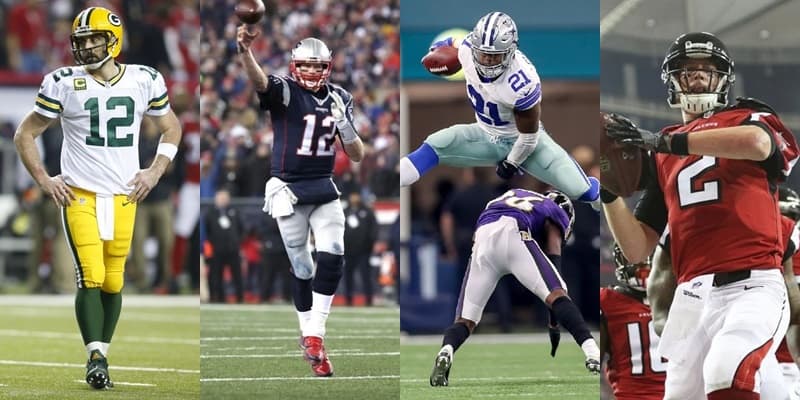 Sign up for a FREE Consultation to start working with Legendary Sports Bettor Jon Price
Most of the time it is pretty easy to figure out who the MVP of the season is going to be, but this season there are a few candidates that have legitimate arguments in their favor:
– Tom Brady, quarterback, New England Patriots
– Matt Ryan, quarterback, Atlanta Falcons
– Aaron Rodgers, quarterback, Green Bay Packers
– Ezekiel Elliot, running back, Dallas Cowboys
Rodgers is the reason the Green Bay Packers made it to the postseason this year. They did not have a running game they could count on, the defense wasn't bad, but it certainly wasn't great, and the offensive line wasn't much help. After talking about running the table, he made sure his team did just that by keeping plays alive like no one else in the NFL can.
However, as amazing as he was over the "run the table" stretch, he was not that good during the team's 4-6 start which should knock him out of the running.
Tom Brady is a popular candidate and deservedly so. He only played in 12 games, but they were an incredible 12 games, and he threw 28 touchdowns and just two interceptions during the season while losing only once. However, he did only play in 75 percent of the season. Had he played the entire season he would be a shoe-in for the award—but thanks to Deflate Gate he did not.
That leaves a veteran quarterback in Matt Ryan and rookie running back in Ezekiel Elliot.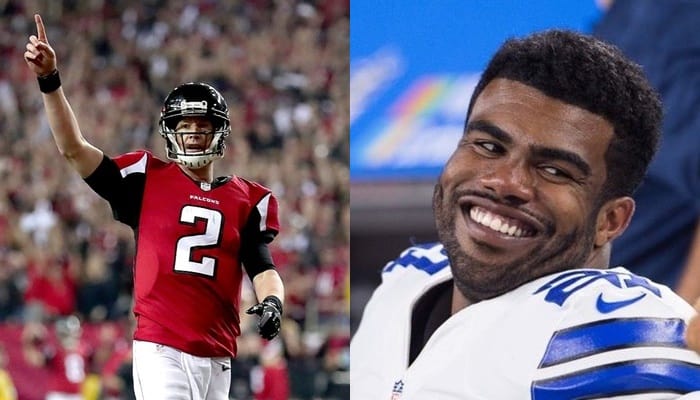 Many consider Matt Ryan the heavy favorite, and it is not hard to see why. Ryan threw 38 touchdown passes and only seven interceptions during the regular season while leading the Falcons to an 11-5 record. He had a decent running game helping him out, but generated most of Atlanta's offense himself by completing 69.9 percent of his passes for 4,944 yards passing.
He wasn't perfect, but he came through for the Falcons when they needed him most. But was the success the Falcons had more of a product of his receivers than him? They did account for nearly half of his passing yards production with 2,382 yards after the catch this season.
While an obvious candidate, many are hesitant to name Ezekiel Elliot the winner because:
He's a rookie
His offensive line
He will likely be the Offensive Rookie of the Year winner
Elliot had a great season; that goes without saying. He was an essential factor in why the Dallas Cowboys were able to go from 4-12 last season to 13-3 this season. Dak Prescott, a healthy Dez Bryant, Jason Witten, Cole Beasley, and a number of other players had a lot to do with it as well. But Prescott would not have had near as much time to grow into the position without Elliot forcing defenses to focus on the running game.
Had they fed him the ball a little more in Week One and let him play in Week 17, maybe he would have broken Eric Dickerson's rookie rushing record (he was 177 yards short).
Matt Ryan and Ezekiel Elliot are both worthy, but Ryan will more than likely get it—but not because his season was better. Elliot will lose votes because he's a rookie (meaning he has plenty of time to win one). Some will say the Dallas offensive line is the real MVP; not him. He'll likely lose some votes because he's expected to win Offensive Rookie of the Year honors.
He's going to get one award so why not give the other one to another worthy candidate? So, congratulations Matt Ryan.