Posted on February 10, 2017, by Travis Pulver
The Dallas Cowboys need to upgrade their defensive front. Everyone knows that. With the No. 28 pick, they could get a pretty good one in the coming draft. According to the 2017 draft rankings posted at CBSsports.com, a pretty good defensive end should fall right into their lap, Michigan's Taco Charlton. Not bad, right?
But what if they could get a better one? What if they could get Texas A&M's Myles Garrett?
In a video released by ESPN Friday, Garrett pleaded with Dallas Cowboys owner Jerry Jones to do what he could to bring him to Dallas—even if it means sending Tony Romo to Cleveland:
Sign up for a FREE Consultation to start working with Legendary Sports Bettor Jon Price
"I'm speaking to you, Jerry," Garrett says on the video. "Mr. [Jason] Garrett, make it happen. Dak Prescott is leading our team right now. I need you to take Tony Romo, take a couple of picks, and give them to Cleveland so you can pick me up, please. I'd love to play in Dallas. Let's make it happen."
It's a nice thought for Dallas fans, but let's be real—it will never happen. If Jones would actually be cutthroat enough to send Romo to Cleveland (of all places), Romo would probably retire rather than take the beating that would be coming his way.
Cleveland has enough holes on the roster that they would probably be willing to trade down if the price is right. They already have two first round picks this year. What if they were able to have three this year and an extra one next year?
It would likely take a solid veteran player along with a couple of first round picks to pry the No. 1 pick away from Cleveland. Dallas does need to do something with Romo and Cleveland could afford his salary—but chances are Romo would do whatever he could to tank the trade. He wants to play for a team that can compete; not a perennial loser like the Browns.
But what if Jerry could talk the Texans into trading a first or second round pick for Romo? Houston has been a quarterback away from being a serious contender for years. Romo would be content with his new home. Who wouldn't want Lamar Miller in his backfield and a pair of great young receivers in DeAndre Hopkins and Will Fuller to throw to?
Jones would either have to condemn someone else to go to Cleveland or send a couple of second round picks as well to make the deal happen, but it is not hard to imagine them going for it. Right now, they have the first and 12 picks in the draft. But what if they could have No. 12, 25, and 28 as well as an additional second round pick and an extra first and second next year as well?
For a team that has as many needs as the Browns, giving up one great player to get five really good ones would not be a bad idea. The question is—would Jerry Jones pull the trigger?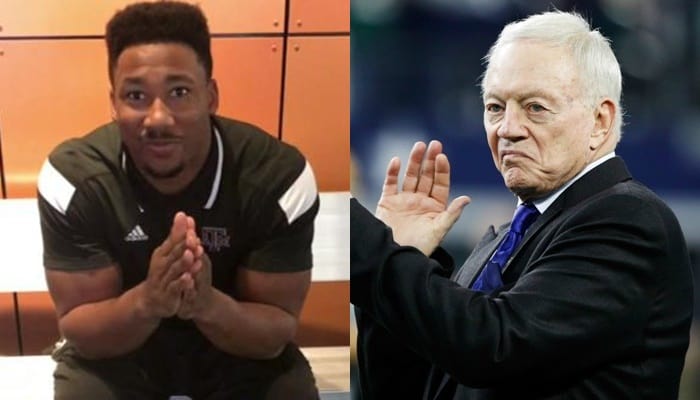 To do so would make it harder to improve the roster for the next couple years. Dallas could use some help at cornerback and will need to find Jason Witten's replacement pretty soon as well. Other needs are bound to pop up as free agents leave, guys get injured, and others retire.
However, the last time Jones traded up to pick up a superstar was the 2012 draft. Morris Claiborne is still on the roster, but he has lived up to being taken so early in the draft (No. 6). Could he make Jones a little nervous to trade up again?
But would the gamble be worth it to potentially give the team the boost it needs to make it to the Super Bowl? Does Jerry still have the cajones to roll the dice?
Who knows; but it can't hurt for Dallas fans just to imagine Myles Garrett with the star on the side of his helmet.